Stardust Memories
(1980)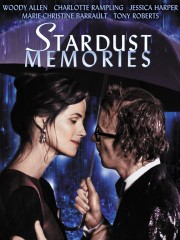 Stardust Memories Trailers & Photos
Movie Info
Loosely based on Fellini's 8 1/2, this Woody Allen film focuses on filmmaker Sandy Bates, who is currently suffering from a major creative block. The film follows Sandy as he attends a weekend retrospective of his films, where he is continually harassed by fans, friends, lovers, and studio executives.
more
Cast
News & Interviews for Stardust Memories
Critic Reviews for Stardust Memories
Audience Reviews for Stardust Memories
Melvin White
Super Reviewer
Dear Mr. Allen,

Your film is famous for it's quote "I don't want to make funny movies anymore. I look around and all I see is human suffering."

And you're right, the world is filled with suffering, and that's exactly why you should make comedies. If I wanted to see human suffering I would turn on the news, read the newspaper, or walk down the street of any major metropolitan city. No one wants to pay $12 dollars to be reminded that the world sucks.

Next time you feel like popping a Bergman film into your DVD player, please re-watch Sullivan's Travels instead.

Your devoted fan,

Ken
Some scenes/shots remind me of Fellini. Some, of Bergman. The typical (and great) Woody Allenīs "philoshopical comedy". One of his best films.
And a plus: Charlotte Rampling is stunning!






Stardust Memories Quotes
Sandy Bates: To you I'm an atheist. To God, I'm the loyal opposition.
Sandy Bates: You can't control life. It doesn't wind up perfectly. Only-only art you can control. Art and masturbation. Two areas in which I am an absolute expert.
Discussion Forum
Discuss Stardust Memories on our Movie forum!
News & Features