Starship Troopers: Invasion
(2012)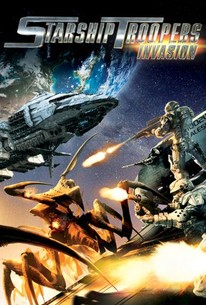 AUDIENCE SCORE
Critic Consensus: No consensus yet.
Starship Troopers: Invasion Photos
Movie Info
The troopers of two starships have joined forces to terminate a massive bug attack at a federation outpost. Before the mission can be completed and the survivors evacuated, one ship abruptly departs and goes inexplicably dark. The remaining battle-hardened troopers race to the rescue, only to discover that the threat from the bugs is about to hit home. With the latest in CGI technology, this film from executive Producer Casper Van Dien and Director Shinji Aramaki (Appleseed) features the return of fan favorite characters Johnny Rico, Captain Ibanez and Carl Jenkins.
Critic Reviews for Starship Troopers: Invasion
Audience Reviews for Starship Troopers: Invasion
Very good, if cliche'd and over-the-top at times. Honestly though, this is the first film in the series that I've been legitimately happy with since the original. Some may not like this, but I really enjoyed this film. I thought the characters were really cool and had well-written back stories for the most part.
Stephen Skudlarek
Super Reviewer
½
Far superior film in the Starship Troopers franchise, this entry tends to rely a bit more on the original novel by Robert A. Heinlein. With great animation, Starship Troopers: Invasion is the best film since the original. This film is a fun Science Fiction action horror film that is entertaining from start to finish. Don't expect anything memorable, but what you can expect is a fine little popcorn flick that is designed to thrill, and it most certainly does that. The voice actors do a fine job, and the plot is engaging, even if at times it fails flat in some areas. If you were let down by the last two entries, then you may be surprised by this one, As this takes the franchise into new and different territory by using Heinlein's ideas to recreate the saga. If you've read the book, you'll understand that the director kept everything such as the suits and other minimal details. By doing that, he manages to create something that should delight fans. Be warned, the plot departs significantly from the novel, but is nonetheless exciting for what it is. This is the type of film to watch for a mindless hour and a half, and it delivers scares, thrills and action into one effective package. This is film that should have been, and in many ways, it is better than Verhoeven's original because it has a better plot. Not saying the original 1997 was horrible, but it wasn't great either. With this one, there seems to be a lot more depth, a bit more serious overtone to the plot and it is definitely not cheesy. The film looks great and it's a blast to watch. As a fan of the original, I very much enjoyed this one, and it was far better than what I expected.
Returning some of the main characters from Paul Verhoeven's original (including Johnny Rico, Carl Jenkins and Carmen Ibanez), this animated entry in the Starship Troopers universe, certainly had the potential to put the series in a good light again. Be that as it may, I have to say I pressed the play button with a healthy degree of skepticism. One of the first things you notice about the film is how elaborate it is in its visuals. Being a straight-to-DVD production, I was rather impressed by the superb animation quality. As expected though, it's sadly squandered on a weak and substance-devoid plot. It's so painfully thin, there's really not much I can say about the story, except that it felt like watching a 90-minute cinematic from a video game. Rico, Ibanez and Jenkins, whom I loved in the original, have been devastatingly stripped of their personalities and reduced to mere one-dimensional stereotypes. Some of them are still there, but their appearances have been completely altered, which makes it even harder to establish any emotional connection. That is, if one can even speak of sentiment, with a movie of the kind. In spite of the dominating superficiality, however, it is for the better part an entertaining ride. Bringing back the awesome music theme by Basil Poledouris (if only for a few moments), gave it a nice nostalgic touch, even if the film as a whole is pretty soulless. You won't care much for the outcome of its testosterone-driven grunts, but at least it manages to provide a servicable dose of badassery. As mentioned earlier, the animations are exceptionally well-done and ultimately, what makes it a decent and enjoyable watch. Aficionados of the original may also be relieved by the fact that its far closer in spirit than the godforsaken "Marauder" (I haven't seen the second film, so I can't make any comment there). Kind of like Aliens for dummies, with a mindless script, yet sufficiently exciting action. Just leave your brain at the door and you'll be able to have some fun with it. And remember kids: "The only good bug is a dead bug!"
Starship Troopers: Invasion Quotes
There are no approved quotes yet for this movie.
Discussion Forum
Discuss Starship Troopers: Invasion on our Movie forum!