Starting Out in the Evening
(2007)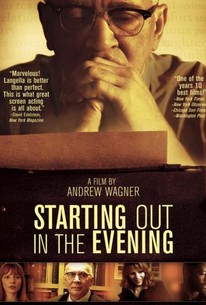 TOMATOMETER
AUDIENCE SCORE
Critic Consensus: Starting Out in the Evening features sharp dialogue and moving performances from the talented Frank Langella and Lili Taylor.
Starting Out in the Evening Photos
Movie Info
Frank Langella (Dracula, Good Night, and Good Luck.) stars in Andrew Wagner's independent drama Starting Out in the Evening, an adaptation of the acclaimed 1999 best-seller by Brian Morton. Langella plays Leonard Schiller, a once-celebrated author whose first four novels inspired Heather Wolfe (Lauren Ambrose) to pursue a career as a writer. These days, Leonard is still working toward completion of the novel that has occupied his life for nearly a decade. On the surface, Leonard has removed himself completely from the deep-seated need for success that characterized his life at an earlier point in time; but on a more buried level, he still longs for his fiction to be rediscovered and re-acclaimed. Now an eager graduate student in the throes of her thesis, Heather is writing her dissertation on Schiller, and promptly convinces him that she can use the thesis to regenerate popularity and discovery of his work. Heather also projects personal interest in Leonard, however, which cuts straight through to the core of his loneliness and brings him in touch with his need for a meaningful relationship even as it leaves him feeling shaken and increasingly uncertain. Meanwhile, Leonard finds that his relationship with his daughter, Ariel (Lili Taylor), is challenged, both by Heather's presence and by Ariel's decision to begin dating her former boyfriend Casey (Adrian Lester) once again -- a fact that Leonard finds most upsetting thanks to his disapproval of Casey. Suddenly, Leonard feels his entire world turned upside down, from his familial relationships to the security of his writing to his own physical vitality -- but he is also taking risks and plunging headfirst into the core of life for the first time, thus living out the principles long celebrated and upheld in his fiction and giving himself the capacity to grow.
News & Interviews for Starting Out in the Evening
Critic Reviews for Starting Out in the Evening
Audience Reviews for Starting Out in the Evening
In what could be considered the main theme of Starting Out The Evening, there is the well thought out and acted questions regarding the relationship between a writer and his muse. Part and parcel with this is wondering how a man who is consumed by his writing, so that he almost totally withdraws from life outside of writing, can create characters who function and are relevant in the very life he has withdrawn from. This is all fascinating stuff, and since it is embodied in yet another wonderful performance by Frank Langella, you'd think that this would be a sure fire hit. Unfortunately the script veers into a very unsatisfactory second theme involving the uneven acting of Lili Taylor as Langella's 40 year old daughter, who hears her biological clock chiming midnight. I suppose that this secondary theme shows the effects of father on daughter and juxtaposes life versus the escapism Langella has perfected, but really, I feel that all things are thusly connected and in this case the secondary story line detracts rather than augments - kind of like a very weak Greek Chorus in its attempts to bring the core drama more into focus. Essentially the main story (the one worth watching) deals with a grad student (capably portrayed by Lauren Ambrose) who is writing her thesis on Langella, a former literary giant in the twilight of his career. His early scribbles led to a cathartic experience for Ambrose, who now reveres the ground the "great man" walks on - which adds an odd, yet somehow compelling bit of Lolita and a May/December romance that makes Langella begin to question everything, including the characters and plot ark of the novel he has been working on for 10 years. There are some great truths here, and Langella is superb - totally raw beneath the veneer of his intellectual civility; and yet, somehow the entire enterprise seemed derailed by the daughters' tale. It was almost like watching two different films on two screens. One held a pretty tight narrative, with some wonderful insight, that seemed very organic, while the other was full of overly obvious setups and some badly delivered, preachy dialog. At the film's close you simply see a man at his typewriter - starting over on an enterprise he knows he will probably never finish - and yet, since the act of writing defines who and what he is, he follows that instinct, just as a salmon will return to its spawning ground - whether he has anything new to say at this juncture is left to speculation - but regardless, write he must.
paul sandberg
Super Reviewer
½
A reserved, hard-working, washed-up novelist battles age as a young grad student interviews him for her thesis and his relationship with his daughter falters because of her choice in men. Frank Langella is phenomenal in the lead role of this tightly constructed and intelligently written drama. He lets us know Leonard Schiller in little gestures like his reflexive withdraw from Heather's kiss on his hand and some of his more impulsive actions in the third act. The character's deep pain comes through Langella's reserved exterior, and the script gives us subtle moments like his prodding of Casey about "compromise." Lauren Ambrose is almost up to the task of keeping up with Langella, but it's Lili Taylor who truly rises to the challenge as this father/daughter relationship is one of the most believable I've seen on screen in a while. The film's theme focuses on what we give up to remain sane in our relationships -- all our relationships, with each other, with our work, with our hopes for the future -- and how time is the constant antagonist. I thought the film's pace slowed down in the second act, and Schiller's attraction to Heather was never fully clear. Is this a sexual relationship in the fullest sense of the word, or is it intellectual with occasional sexual trappings? And why does Heather react as she does in the third act? Overall, this film is worth seeing for Langella and for the opportunity to see an intelligent film about intelligent people, which is a rarity in this age.
Jim Hunter
Super Reviewer
Wonderful performance from Frank Langella is the main attraction of this film. Slow and at times a little dull but worthwhile to watch a master at work.
Starting Out in the Evening Quotes
There are no approved quotes yet for this movie.