State Property 2
(2005)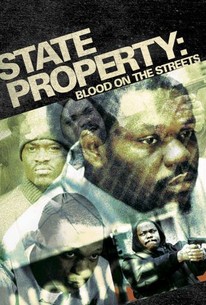 Movie Info
Hip-hop mogul Damon Dash wrote, directed, and stars in this hard-hitting examination of life in the criminal underground of a great city. Three different crime bosses are locked in a battle over the drug trade in Philadelphia. New York transplant Dame (Damon Dash) and his umbrella crew command a powerful network that controls the city's dope traffic, but he has two bitter rivals who both oversee competing gangs from behind bars -- Beans (Beanie Siegel), Philly-born leader of the once-dominant ABM Crime Syndicate, and Loco (Noreaga), a slick street hustler from Miami who has the bankroll to finance a powerful operation. As these three men and their underlings scramble for money and power, another player is quietly consolidating his forces and rising up against them. State Property 2: Philly Streets also features supporting performances from Mariah Carey, Ol' Dirty Bastard, Cam'ron, and a handful of other hip-hop and R&B stars.
Rating:
R (adult situations/language, sex, violence)
Genre:
,
Directed By:
Written By:
In Theaters:
On DVD:
Box Office:
$1,677,733.00
Runtime:
Studio:
Critic Reviews for State Property 2
Audience Reviews for State Property 2
I've seen worse and I've seen better. Jail time and Drug Sellers. I agree with Eduardo C: "It is escencially a commercial for the image rap has been selling for the past 15 or so years: selling drugs is cool, killing people is cool, prison is cool, women are bitches, white people are stupid and hate black people, latinos are stupid and hate black people, asians are stupid and hate black people, and whenever confronted about your actions, just saying "I done what I hads to do ta gets paid" is more than enough." Not a movie I would want in my movie collection.
holly riley
½
Maybe Not a classic but this film is decent. A big step up from the first one better characters, better acting and better funnier scenes but this movie has too many problems. It's Very long, the pacing is strecth out, and the plot just like the first is very confusing but in the end it's not bad for a gangster film. The film leaves off where Beans The main character from the first film has been sent to jail for lots of reasons and crimes.now he is serving 15 to 30 years in jail. in jail he meets a couple of new characters Free and "El pollo loco" who help him to get out of jail if he decides to join together to become the number one guys in Philly. but the only way is stopping them is Beans' rival Dame who still has a score to settle with Beans and doesn't like the fact that he isn't given a shot to become number one in Philly. so both crews from Beans and Dame go at each by killing each others robbing each other and etc. when Beans comes out of jail he's mad that his crew has been slacking and making him look bad while out of jail him and Dame confront each other and they find out that they were getting played by "El Pollo Loco" in the end Beans and Dame team up to get back at "El Pollo Loco" but Loco finds out that his close friend betrays him just to get money and he sets up the whole thing about Beans and Dame Loco finds out and Kills him in the end and Beans and Dame have ended there beef...For Now. Now the plot at first is straight forward but just gets lost and confusing at times With too many flashback scenes that have you lost but if you watch it a couple of times you may understand it. The pacing is long and drags. but the reason why is that this movie is a little long so maybe that's the reason. as for Character development it has stepped up since the first film.You know a lot more about Beans and Dame's characters how they started, how they became drug dealers the thing about Beans and Dame is both are drug dealers but have different personalities Beans' is rough,tough and does it the dirty way.While Dame does it professionally and clean without getting his hands dirty it sucks that this development wasn't shown in the first. As for the acting it's a mixed bag. there are no stand-out or memorable performances but it's decent. For Beanie Sigel he has step his acting game a little bit and show inspiration and that thugness that makes his role believable. same goes for Damon Dash as he fits in his role and plays his role so smoothly and is having fun with his role. N.O.R.E. does a good job playing the comical "EL Polo Loco" as his character brings the humor into the film and gives an a good performance. Freeway is given yet a Dean-pan role so I can't say much about his performance Omillio Sparks gives the same performance that he gave in the first and isn't as funny as he was in the first film just annoying.as for the rest of the actor the all do a so-so job so good, some bad. Overall it's a decent movie go watch it if you haven't seen it.
Jonathan Vargas
Chosen 718
Super Reviewer
State Property 2 Quotes
| | |
| --- | --- |
| Baby Boy: | We in the whole for 90...D, you aint moving!!! |
| Baby Boy: | We in the whole for 90...D, you aint moving! |
| | |
| --- | --- |
| Beans: | A.B.M. Crew: All Bout Money |