Stavisky...
(1974)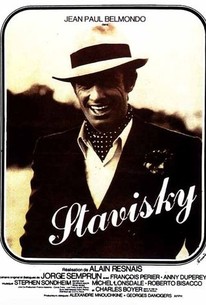 Movie Info
Stavisky is the filmed biography of Serge Stavisky (Jean-Paul Belmondo), a con man whose schemes sparked a series of riots in the 1930s that nearly ruined the French government.
Rating:
PG
Genre:
,
Directed By:
Written By:
In Theaters:
On DVD:
Runtime:
Studio:
Cerito Films
Critic Reviews for Stavisky...
All Critics (7) | Top Critics (2) | Fresh (6) | Rotten (1)
New York Times
Top Critic
Like Charles Foster Kane, Alexandre Stavisky is a man of intriguing parts that make up any number of wholes.

Chicago Sun-Times
Top Critic
Quite a pleasure it it is to unpack, and more of a pleasure when there's something genuinely worthwhile inside of it all.

The picture is technically brilliant, visually stunning, and ceaselessly interesting.
A failed film, but attractive and interesting enough to earn the attention of all lovers of non-conventional cinema.
It's a stylishly glowing film, shimmering with both romantic images and haunting visions.

Ozus' World Movie Reviews
Audience Reviews for Stavisky...
Not as formally inventive as "Hiroshima Mon Amour" or "Last Year at Marienbad," "Stavisky..." remains essential Resnais viewing for its intricate, moving tale of a con artist whose scandal topples the French political order. As always, Belmondo's charm is effortless, inviting sympathy for a sociopath seeking love (much like Charles Foster Kane). The theme by Stephen Sondheim haunted me for days.
Todd Kushigemachi
Not exactly emotionally engaging to the fullest, but I was always interested. This story of a conman is elevated by Resnais direction and the writing from the late Jorge Semprun. The narrative structure takes a couple minutes to get into, and I'm still not entirely sure what Trotsky (yes, the one and only) is doing in the plot entirely except as a backdrop of the period and how Stavisky, I think, ultimately ties in with him being deported from the country to get out of his already asylyumed state. But the two main characters here are Belmondo, super charming as always but here his bullshit-artiste type from Breathless is given more of a dose of reality and even psychological realism, and Stephen Sondheim's score, which comes in from time to time almost too insistently, like a melodramatic friend asking to amp up a walk down a hallway or a tracking shot (though, damn, don't those tracking shots get lovelier with Sondheim's strings and horns backing things up). We want to see where this guy will go and how far he can take his schemes because we know there is ruin lying ahead. I think there was a point about midway through where I was getting somewhat restless, as to the thought 'Resnais and Semprun and company have shown us this character, his very sleazy yet undoubtedly charming way of being around people, but where will it go now, what will the movie do to keep things interesting'. And in its own way it becomes more interesting than just being a series of 'how will he get out of this' as it is 'it's time for the downfall, let's hear what his associates, doctor, lawyer, the love he didn't really have - that was the one thing in the film that, while nice and had certain, brief sensual mood, was underdeveloped - had to say ala Citizen Kane. And another fascination comes with bringing the theater itself into it. Stavisky/Alex could have made just a wonderful actor, maybe a protege of Stanislavski, but he decided to take it into the real world as opposed to just the stage, where he could read lines next to other actors but not as confidently as in a fine suit and cigar giving our fake money. Maybe that explains, in a metaphorical part, the Trotsky thing, since Stavisky himself was from Russia too: the best way to subvert Capitalism, perhaps, is to just make a mockery of it, fuck the system and get away with millions and millions, always with a smile and courtesy. It's a moody, entertaining ride, the French-socio-historical-political flipside of something like The Sting, also from the same time.
Jack Gattanella
Stavisky... Quotes
There are no approved quotes yet for this movie.
Discussion Forum
Discuss Stavisky... on our Movie forum!