Steal a Pencil for Me
(2007)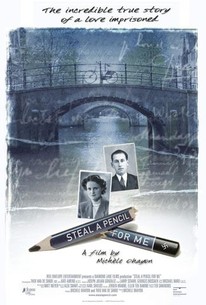 TOMATOMETER
AUDIENCE SCORE
Critic Consensus: Steal a Pencil For Me is a unique Holocaust story that pays tribute to the strength of the human spirit in the face of enormous hardship.
Steal a Pencil for Me Photos
Movie Info
A man, his wife, and the woman he has fallen deeply in love with experience jealousy and heartbreak while housed together in the same barrack of a World War II-era concentration camp in Oscar-nominated director Michèle Ohayon's (Cowboy del Amor) unflinching look at love in a land ravaged by war. His marriage already failing when he and his wife were assigned to live in a concentration camp, Jack soon found comfort in the arms of new love interest Ina. Though his wife voiced vehement objection to the relationship, Jack continued to communicate with his newfound love in a series of furtively penned love letters. It was through these clandestine correspondences that Jack and Ina were eventually able to gain the strength needed to get through such a dark time, but as the war draws to a close all three survivors are forced to make some difficult, and potentially life-altering, decisions.
News & Interviews for Steal a Pencil for Me
Critic Reviews for Steal a Pencil for Me
Audience Reviews for Steal a Pencil for Me
I hate to rate this documentary so low as it deals with a tragic and touching story of two lovers trying to stay together in Nazi work camps but the production left a ton to be desired. The story of Jack and Ina is great romance but the direction left much to be desired and the slow pace and lack of compelling visual imagery just didn't do the story of Jack and Ina justice.
Jonathan Porras
A believable and deeply touching story of an unimaginable romance that happened in Holland in World War II and bloomed in the horrible camps at Westerbork and Bergen-Belsen. Two Dutch Jews, Jaap Polak and Ina Soep, did what young lovers do, in a sadly minimum way while they endured the terrors of the camps and struggled to stay alive. Their final escape from Bergen-Belsen, on separate trains bound in opposite directions, kept them apart only for a few desperate months. In this deliberately understated film, they dance at their 60th wedding anniversary and recount only as much of their experience as we would want-they maintain some privacy, while celebrating their love over so many years. The best moments for me were in a scene with school children on a family outing at a WWII camp location that remains as a memorial to the dead. Jaap talks plainly to the kids who stand listening, mutely attentive to the old man and perhaps unable to fully grasp the meaning of his words. A mother uses the moment to remind her children that "this man is Jewish, but he is no different from us." Jaap and Ina are old, and they are Jewish survivors of the Holocaust, and they are happy now. I don't want to be different from them.
Richard Subber
This is an excellent documentary about something very important that should never, ever be forgotten- but it's a documentary, and thus is a bit dry sometimes. Besides that, though, this is excellent and should not be missed.
Amanda Hendsbee
Steal a Pencil for Me Quotes
There are no approved quotes yet for this movie.
Discussion Forum
Discuss Steal a Pencil for Me on our Movie forum!