Steal Big, Steal Little
(1995)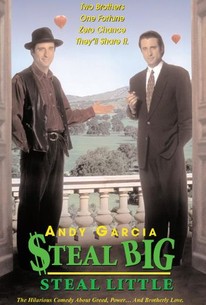 Steal Big, Steal Little Videos
Steal Big, Steal Little Photos
Movie Info
Director Andrew Davis followed up the action blockbuster The Fugitive (1993) with this Capra-esque box office dud that nevertheless featured engaging dual performances by Andy Garcia. Garcia stars as Ruben and Robby, twin brothers who were raised separately and have become total opposites. Ruben has recently inherited a 40,000-acre Santa Barbara estate from his eccentric guardian, Mona (Holland Taylor). A friend to artisans and migrant workers, Ruben wants to transform the land into a commune, while the cold-hearted Robby wants to steal it from his brother, develop it and make millions. Muddying the waters are Lou (Alan Arkin), a quick-thinking ex-cop and pal of Ruben's who is able to manipulate the law to his own purposes, Eddie (Joe Pantoliano), a shark lawyer who plays both sides against the middle, and Ruben's ex-wife Laura (Rachel Ticotin). When each brother masquerades as the other for a time, however, some insights are gained by both.
Critic Reviews for Steal Big, Steal Little
Audience Reviews for Steal Big, Steal Little
½
(**): [img]http://images.rottentomatoes.com/images/user/icons/icon13.gif[/img] I never really got truly involved with this movie. The cast is fine, but the movie is pretty forgettable. Fair at best.
TTT C
(from The Watermark 09/30/95) Garcia plays twin brothers named Ruben and Robbie. Ruben is the flibbertigibbet with a heart of gold, while Robbie is the greedy businessman. When their rich mother dies and leaves all of her wealth to Ruben, Robbie retaliates by using his power with the local police and judicial system to re-acquire the family riches for himself. Marketed as a romantic comedy, the film makes the glaring error of starting out too serious, and when the comedy kicks in, it takes too long for us to get used to it. Add the occasional passionate-monologue-delivered-in-court to try and tug at our heart strings, the final product is a jumbled-up waste of time. Arkin is wonderfully farcical in his supporting role as Ruben's business advisor, but do we really need another good twin/bad twin vehicle? Queer Quotient: The mother's sleazebag lawyer (played by Joe Pantoliano) acts suspiciously like a fellow sister. Thank goodness he ends up seeing the light, and helps out the good guys - in drag no less. No sexuality is inferred, but if not for dressing up like a woman, what's a good fag for?
David Almeida
Steal Big, Steal Little Quotes
There are no approved quotes yet for this movie.
Discussion Forum
Discuss Steal Big, Steal Little on our Movie forum!