Steal This Movie
(2000)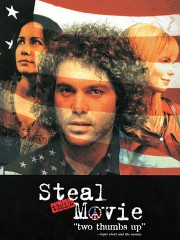 Steal This Movie Trailers & Photos
Movie Info
Steal This Movie! is a dramatic account of the tumultuous life and times of Abbie Hoffman, one of the most visible and influential figures of America's 1960s counter-culture. (Its title was inspired by Hoffman's irreverent "survival guide," Steal This Book.) Hoffman's founding of the Youth International Party (better known as the "Yippies") and inventive acts of street theater -- including an "exorcism" of the Pentagon and the riotous protests at the 1968 Democratic Convention in Chicago -- made him a household name and a star of the anti-war movement. They also earned him enemies, and he was eventually arrested for trying to sell cocaine to an undercover cop, a bust that he contended was a set-up meant to discredit him. Rather than face a long prison sentence, Hoffman went underground, leaving behind his wife and children and posing as "Barry Freed," who became a respected environmental activist. In time, Freed acknowledged that he was Hoffman, spent two months in jail, and returned to activism full-time until his 1989 death. Steal This Movie stars Vincent D'Onofrio as Hoffman, Janeane Garofalo as his wife Anita, Kevin Corrigan as Jerry Rubin, Troy Garity as Tom Hayden, and Jeanne Tripplehorn as Joanna Lawrenson, who became romantically involved with Barry Freed.
more
Cast
News & Interviews for Steal This Movie
Critic Reviews for Steal This Movie
Audience Reviews for Steal This Movie
Melvin White
Super Reviewer
Good movie based on the life of Abbie Hoffman. Most of it is told in flashbacks. A journalist is writing a piece on Abbie Hoffman, and through interviews with him, his wife, friends and lawyers we see what happened to make Abbie go "underground"...which is where he is at the beginning of the film. This covers the time from his first arrest, to his coming out of the underground. Vincent D'Onofrio does a great job as the man himself, and Janeane Garofalo is wonderful as his wife Anita.
It pains me to give this movie two stars but as a great advocate for Abbie Hoffman and the Yippie movement in general, I cannot condone such an inaccurate representation of the great mans life. Although this movie, on the surface is energetic, informed and entertaining, after reading Hoffman's autobiography and his own book "Steal This Book" I cannot say that this movie represented the man he truly was, more than represented an over illustrated and almost cartoon like version of one of the most inspirational people of the twenty first century. Abbie Hoffman - five stars. Steal This Movie - two stars. Enough said really.
Unknown Hobo
Super Reviewer
Discussion Forum
Discuss Steal This Movie on our Movie forum!
News & Features