Steel Frontier
(1995)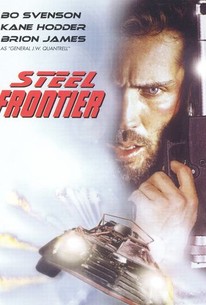 AUDIENCE SCORE
Critic Consensus: No consensus yet.
Movie Info
Set in a post-nuclear-holocaust future, this sci-fi western takes place in a frontier city, the only place around with a working oil refinery. Ever since a megalomaniac general took over the place, life has been miserable. Then a stranger comes to town, leading the townsfolk into a violent uprising.
Rating:
PG-13 (violence, language)
Genre:
,
Directed By:
In Theaters:
On DVD:
Runtime:
Studio:
Pm Entertainment
Critic Reviews for Steel Frontier
There are no critic reviews yet for Steel Frontier. Keep checking Rotten Tomatoes for updates!
Audience Reviews for Steel Frontier
"In the tradition of Max Max"? More like Burning Man meets a redneck car-crash derby, all gone horribly wrong and borrowing heavily from the first national bank of "Water World". Suffice it to say, if this Christlike hero was eating radioactive rodent and breathing fallout on a regular basis he'd be crapping his intestines out while his face sloughs away, not riding all pretty around on a motorcycle. But, I'm sure it'll scare and excite the living hell out of the American breadbasket and bible belt. At least there's none of the hints at coming race war I've come to expect from made-for-CMTV. All that said, there are some pretty good car stunts and pyrotechnics. And the story actually is kind of what you might expect would be happening in the United States around the same time as the "Road Warrior" sequel, however that style could be cramped by the Star Trek-like technology. The acting, dialogue and delivery aren't shabby at all with the best deliveries of the film scripted for the villain Ackett, played with star quality by Bo Svenson. Everyone down to the bit and background role puts in their own special touches, with Adolfo Quinones signing a cross with his thumb and kissing it in silence during someone else's lines. A scene where the hero stares at a photo so degraded you can't see what's on it and proceeds to play "My Country Tis Of Thee" on harmonica is especially poignant. The fight choreography and stuntwork is well done. Everything from effects, props and costumes, camera and lighting to editing and sound production are top of the curve B-grade. And the scenario of the old-west style shootouts and duels are incarnated in every possible context, so if you like that kind of thing you'll get your belly's full. It could have stopped at the first ending an hour in but it kept pace for an hour and forty and the second ending is somewhat more satisfying within the standards of the "Mad Max"-like genre. It's worthwhile viewing even if it feels like watching a pastor-approved version of "Mad Max" in a basement slash post-dispensationalist pentaholocaust prepper sanctuary as a special break from mandatory viewings of Chuck Norris sequelitis. You can find this modern marvel in the bargain bin at Wal-Mart under the title "Road Fury Collection: 5 Movies". Four out of five stars.
Gabriel Arthur Petrie
Cheap Mad Max knock-off that doesn't hold any thrills or likable characters. It's hard to follow, gets dull at times, and the action never kicks off. But there are some good b-movie effects and gory moments, and the cheapness does at least give off a charm.
Wes Shad
½
This starts off with a good opening shot of a guy with his legs torn/cut off just showing bloody stumps...a very 'Verhoeven' style to it I must say and gets you all excited. A gloriously hammy tongue n cheek future distopian western with B-movie classic Brion James in his usual baddie role but looking alittle like his 'Fifth Element' character. Mix 'Mad Max' with most Clint Eastwood western classics and you get this, it looks cheap in places but not too bad in others and the gun fights are actually pretty neat in an over the top kinda way, plus there are actually some really good explosions including a massive demolition of a huge factory type chimney. The hero is a rip of Clint with his cigar's but also a slight precursor or copy of 'Jonah Hex' and 'Soloman Kane' in the looks department, whilst all the baddies are the usual 'Waterworld' 'Mad Max' style looking cannon fodder hehe Very cheesy but actually not too bad for a unknown film (never heard of it myself), hidden gem :)
Phil Hubbs
Super Reviewer
Steel Frontier Quotes
There are no approved quotes yet for this movie.