The Steel Helmet
(1951)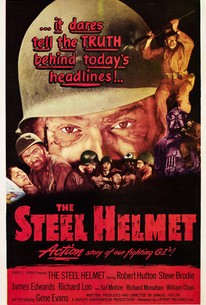 Movie Info
One of the greatest war films ever made, this film still retains considerable power when compared with today's more explicit offerings. Fuller regular Gene Evans plays a tough-as-nails sergeant who, because of his helmet, is the sole survivor of an ambush during the Korean War. He is helped through the wilderness by an orphan (William Chun as Short Round) and led to a new platoon that faces even greater dangers.
News & Interviews for The Steel Helmet
Critic Reviews for The Steel Helmet
Audience Reviews for The Steel Helmet
Really great Korean War flick from Sam Fuller. Possibly the best Korean war movie ever, although I'd need to do some more research to be sure.
Ken Stachnik
Super Reviewer
Well-made film set during the Korean Conflict by Samuel Fuller. More character study than exciting battle film, and definiltely anti-war, as most war films really are. A gruff but tired sergeant, who is the sole survivor of the ambush of his platoon by North Korean soldiers, meets up with a ragtag platoon in a similar state and a young South Korean boy. They take temporary refuge in a Buddhist temple (although the giant Buddha statue looked more like Geronimo), where they are attacked by North Koreans. A couple of slightly disturbing scenes, including one where Sgt. Zack tells the Korean boy, called "Short Round", to get a helmet and boots from one of his dead platoon mates, and a black soldier's discussion of racism in America, which he seems to accept with little comment. Odd, but I assume it's a product of the time the film was made. For some reason that I haven't put my finger on yet, I got a strong feel of Kurosawa while watching this film, especially Rashomon and Seven Samurai.
i didn't think a film like this was possible in 1950's john wayne america; an emotionally honest portrait of soldiers under fire made at the height of the korean war. i have new found respect for sam fuller. this is in the league of paths of glory and bridge on the river kwai. it's outstanding and a must-see for fans of war films. i'd never even heard of this but i'm really glad i watched it
Stella Dallas
Super Reviewer
The Steel Helmet Quotes
There are no approved quotes yet for this movie.