Stellaluna
(2004)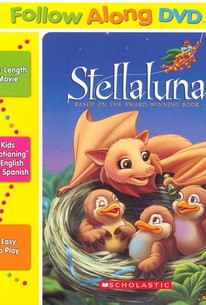 AUDIENCE SCORE
Critic Consensus: No consensus yet.
Movie Info
A youngster learns some important lessons about being different from those around you in this animated adaptation of Janell Cannon's book for children. Stellaluna is a young fruit bat who gets lost and can't find her mother. Not knowing how to get home, Stellaluna is befriended by a family of birds, and she soon grows close to the hatchlings as if they're her siblings; however, even if Stellaluna can fly like a bird, it becomes increasingly obvious that she's a different sort of critter with different ways of doing things. Can Stellaluna learn to be more like her friends, or will she hold on to the qualities that make her what she is?
Rating:
G
Genre:
,
Directed By:
In Theaters:
On DVD:
Runtime:
Studio:
MGM Home Entertainment
Audience Reviews for Stellaluna
I am not a very good bird! A little fruit bat known as Stellaluna is separated from her family as a young bat and finds herself in a birds nest. The birds raise her as one of their own, but Stellaluna as she grows older finds more and more aspects of her life that doesn't fit in with the birds method of survival. Stellaluna will eventually search for her own parents and family with the support of her bird family. "Maybe I can find a way home." William R. Kowalchuk Jr., director of Rudolph the Red Nose Reindeer and the Island of Misfit Toys, Camelot: The Legend, Ben Hur, In Search of Santa, and At Jesus' Side, delivers Stellaluna. The storyline for this picture is just okay and fairly straightforward, maybe cliché for the genre. The animation is nothing special and the voices were not really provided by any recognizable names. "I can see in the dark!" I came across this on Netflix and decided to add it to the queue to watch with my daughter. She enjoyed it and was glued to it from beginning to end. I do recommend watching this with your child, as it's worth a viewing, but isn't good enough to own on DVD. "It's cool being a bat." Grade: C+
Kevin Robbins
Stellaluna is flying high again. The animated feature based on the award winning book will see the light of day again on dvd February 21st via New Video and Scholastic. This most recent re-issue was originally set to hit stores yesterday. But due to unforseen circumstances, was pushed back to next week. Five years have passed since the last re-issue of this high flying family feature. Now, those families that didn't get to see it before get another chance next week. It should be noted right up front about Stellaluna that yes, this presentation has a number of differences from the original award winning children's book on which it is based. But it's not the first book to get the re-imagining treatment. Fellow children's book, Where The Wild Things Are also got the reimagining treatment. As a matter of fact, unlike Stellaluna, it made its way to the big screen. And while it was a major re-imaginging, it was still an enjoyable watch. It still presented a positive message in the end. That being noted, this re-imagining of Stellaluna can be forgiven for changing the original story around. It can be forgiven in that in the end, it too presents positive messages for viewers young and old alike. Stellaluna is such a joy to watch because of its ability to ties together so many messages for viewers, without getting bogged down in itself. It's impossible to avoid a comparison to the story of the ugly duckling in Stellaluna. That's a result of Stellaluna being so young when she lands in the nest of a mother bird and her babies, after being separated from her own mother. Stella is taken in by the mother bird, none of them realizing--inlcuding Stellaluna--that Stellaluna is actually a fruit bat, not a bird. The key here is that just as with the story of the ugly duckling, Stellaluna is taken in, despite being different. The message being sent here could be one of racial tolerance. It's that message of although people are different, we should all be accepting of one another. It's a wonderful message that parents can discuss with their children. The message of tolerance ties directly in to the message of being comfortable with one's own self. When Stella starts to see how different she is from her adoptive brother and sisters, it begins to make her very sad. Luckily, she's reassured by a pair of birds (who were not in the original book) that it's not what's outside that's important, but what's on the inside. This reassurance helps Stellaluna regain confidence in herself. And it helps to set up the eventual climax to the story, which leads, of course, to a happy ending. That happy ending--and the story leading to that ending--aren't the only positives to the overall presentation in this dvd. The bonus features included this time out include both an On-screen read along option, and a sing-along feature. These aren't the same features included in the dvd's previous releases. But they are positives in their own right. Both the read along and sing along features are great opportunities for parents to watch Stellaluna with their kids, and help teach them to read. To top it off, it simply encourages interaction between parents and their children. There's also an activity booklet included with the dvd. It includes a maze that Stellaluna has to navigate, along with a word search and a couple of coloring pages that kids'll have a blast with. Whether for the new bonus features or the story's positive messages, this re-imagining of Stellaluna is a joy for kids and kids at heart. Odds are it will always have its critics because it does change things from the original children's book. But it's not the first of its kind. Keeping that in mind, Stellaluna is still an enjoyable watch both for kids and kids at heart.
Philip S