La sindrome di Stendhal (The Stendhal Syndrome)
(1996)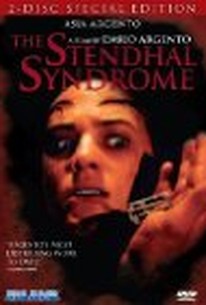 La sindrome di Stendhal (The Stendhal Syndrome) Videos
La sindrome di Stendhal (The Stendhal Syndrome) Photos
Movie Info
The title affliction causes sufferers to react to paintings in extreme and bizarre ways. In the case of police detective Anna Manni, she swoons and feels herself entering hallucinatory versions of the artwork she sees. This Italian psychothriller contains dark elements of horror as Manni tries to capture a murderous serial rapist. The lady detective is first seen walking the art-filled hallways of the Uffizi Gallery in Florence. The great paintings have a terrible effect upon her and she ends up having one of her surreal visions after fainting in front of Brueghel's "The Flight of Icarus." She sees herself falling through the painting's deep ocean and is only saved by the hands of Alfredo, a stranger who saw her fall. She returns woozily to her hotel. Her memory has temporarily lapsed, and once in her room she finds herself similarly mesmerized by a painting on the wall, but eventually she remembers her assignment. Unfortunately, when she meets up with Alfredo again, he attacks and rapes her. He then forces her to watch while he rapes and murders another. She manages to escape and make it back to Rome where she begins seeing a psychiatrist. Her former lover Marco also makes sure she is guarded 24-hours a day. Unfortunately for Anna it is not enough, and Alfredo strikes again. ~ Sandra Brennan, Rovi
Rating:
NR
Genre:
, ,
Directed By:
Written By:
In Theaters:
On DVD:
Runtime:
Studio:
Troma
Cast
Critic Reviews for La sindrome di Stendhal (The Stendhal Syndrome)
Audience Reviews for La sindrome di Stendhal (The Stendhal Syndrome)
½
For Argento, this a 3/5, for any other director it could easily be a 4/5. I'll keep the better moments in mind and rate this 3.5 then. Some moments of hypnotizing cinematography that do START to communicate this sense of the "Stendhal Syndrome" but which never quite arrive there. An interesting plot which is about the same level of detail as any Argento - some have argued that this is less plotted, but those fools have obviously never noticed that the one thing Argento can never do well, perhaps because he has no interest in it, is plot, and that this film is pretty standard for barebones "just-get-me-to-the-next-overly-atmospheric-scene" Argento storytelling. This film does breakaway from standard Argento which lighting and sound to portray an overwhelming yet somehow still subtle sense of foreboding. In this film, we get that typical Argento style creepiness in the scenes involving paintings but he also experiments with a new style. Usually, we see through the killer's eyes, roughly following his perspective through many murders. Here the killer is out in open, speaking and interacting, while fully lit, to his victim and our protagonist. This is not a mysterious figure that the camera implies to be present; he is in full closeup and gets more than his share of screen time. One thing this character does for me is make me a bit glad Argento doesn't reveal his killers in this way in his other films simply because if they're anything like this guy, then it would be too realistically frightening and nearly no one could endure these films. For someone that avoids the realist approach to horror, the very realistic and frightening character unleashed on the screen here is an unexpected and refreshing take on horror from master Argento. Most Argento is about the central female character - usually played by Asia as here - and this film especially so. If this film is anything, it's a great vehicle for her to showcase her abilities and she plainly demonstrates that she's not just a director's daughter but a genuine talent. Most Fucked Up highlight: the second rape scene (in the manmade cave area beneath the waterfall)
_kelly .King
Super Reviewer
½
I don't find myself saying this about most recent Dario Argento, where the holes in the plot only widen under scrutiny, but this film actually improves with repeated viewings. The first twenty minutes or so have an extraordinary hallucinatory quality and are quite masterfully directed. If the rest of the movie fails to live up to such a promising opening, the novel inversion of Dario's standard giallo format keeps us watching. Typically, an unknown killer, represented by a subjective camera, is unmasked from a group of suspects at the end of the picture; here, for once, we know the killer's identity from the outset, but he disappears into the shadows as the film progresses. Of course, there is a very good reason for this but, nevertheless, it's still an interesting stylistic departure. It's also refreshing not to have Dario resorting to outrageous trickery to hide his killer; what concealment there is plays pretty fair, though it's more transparent than subtle, unfortunately. Whatever its faults, this is still the best thing Argento's done since Opera - over 20 years ago! - and it's certainly his most disturbing film.
While a bit self indulgent at times...this was an interesting film, especially visually. While not perfect, one who has followed Asia Argento's work can see the progress in her acting abilities. Argento fans will appreciate the effort, but I don't think it for everyone.
Discussion Forum
Discuss La sindrome di Stendhal (The Stendhal Syndrome) on our Movie forum!
News & Features