Stephanie
(2017)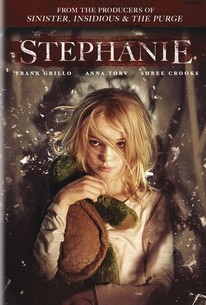 AUDIENCE SCORE
Critic Consensus: No consensus yet.
Critic Reviews for Stephanie
Audience Reviews for Stephanie
½
I mentioned in my review for The Keeping Hours which, like this movie, was also produced and distributed by Blumhouse and Universal respectively, that I have no interest in having children. Firstly, I find children annoying and, secondly, raising a tiny human being is a massive responsibility and there's so many things that could go wrong and I don't want to be responsible for, potentially, ruining someone's life. Not that I'd be a bad father, but I may just make every wrong decision in the book, thinking that I'm doing right for my child, you know? But, of course, I'm getting ahead of myself here and to have a child, first I need to meet a woman willing to have one with me and that, honestly, isn't looking very likely. At least at this moment in time. Regardless, the point is that I'm not interested in having children, so this movie is like preaching to the choir, my dudes. This is the anti-child PSA that I've been waiting for. If A Quiet Place, by some religious people, is seen as a pro-life movie, this one is the exact opposite. In all seriousness though, I like this movie's concept. Perhaps it's not the most unique you will have ever seen, but I felt that they could probably get something out of it. I'll be honest, and I'll try not to spoil anything specific, but I think that the twist is fairly obvious. If you've seen more than five movies and are able to retain the information from those movies, you'll be able to figure it out. Sometimes, in movies of somewhat lesser quality, I would see that as a negative. But, somehow, in this movie it's not quite the negative you would imagine. Cause you're getting all of these interesting ideas in your head as to what they could do with what, clearly, is gonna be the twist. That the movie does anything with those ideas that come up is another matter entirely. But, at the very least, this isn't the type of movie where its predictability is a detriment. Anyway, the eponymous Stephanie lives alone in her house after this apparent apocalyptic event took place. The way the news frame it, at least the few glimpses you get of it before Stephanie changes the channel, it seems like some sort of invasion by beings from another planet. Anyway, it seems that Stephanie has been living on her own for quite a while, her brother has died and he is still up in his room. There's also this shadowy figure that every so often 'haunts' Stephanie and it ends up leading to a jump scare or something of the sort. The first half or so (or maybe even less) of the movie is Stephanie just being on her own isn't that exciting. While it is essential to the overall narrative and the abandonment issues she has as a result of her parents, ummm, abandoning her, I still feel that the scenes when Stephanie is alone, and the few jump scares that we get out of it, are a little on the boring side. Like I said, it is important to where the movie wants to go, but I think the movie really shines when Stephanie's parents do come back and they, for reasons that become obvious later on, become a little distant with her, thinking that she had to have died, which is the reason they left in the first place. I do think that the movie, unlike The Keeping Hours (which specifically dealt with the themes of grief and loss), does a better job at tackling those themes, at least those of loss. Because, yes, as you may have guessed and I'm gonna SPOIL THE FUCKING SHIT OUT OF IT, Stephanie was the monster. There's no monster other than Stephanie herself and, apparently, many other children in the world have been affected by the invasion of these beings that are using the children as hosts. So, essentially, for Stephanie's mom and dad (who are never given names), they've already lost their daughter. I think everything they do after arriving back at their house is delaying the inevitable. Stephanie's dad believes that Stephanie is strong enough to keep herself under control. Essentially, the worse thoughts these children have, the more the monster inside them is able to manifest itself. So Stephanie's dad believes that if he can keep herself calm and under control, their life could go on as it did before. This, obviously, doesn't work out. So they try Stephanie's mom's solution. She's a surgeon and, basically, she's just gonna neuter where the monster is, apparently, located in her brain or something. The monster having survival instincts, prevents the surgery from taking place. This is when Stephanie's mom and dad decided that the best option, as some members of the scientific community have been saying on the news, is to kill her. And I think that this what the movie does best because, while you could have done with seeing more between Stephanie and her parents, I do think that Frank Grillo and Anna Torv do a good job at making all of this work. How difficult this must be for them to do. And that's why I feel that this movie, when compared to the Keeping Hours, does such a better job with its themes of loss. Because while their daughter is still down there somewhere, she's been overtaken by the monster inside her and, I'm assuming, it's gonna get worse. However I do think that the parents give up too quickly. They try Stephanie's dad's suggestion first, it doesn't work. Then we got to the surgery the mom is performing and it doesn't work either. And that was it, after that, they just gave up. They don't even consider any additional options. So that was a little weird. With that said and as complimentary as I may be towards this movie, I still don't feel that this would be what I call a good movie. I just don't think that they went to as many interesting places with its concept as they could have. While I get that this family drama tinged with horror elements, sometimes it still feels like we're watching two completely different movies. Like when the monster takes over and, obviously, causes destruction and, eventually, the death of Stephanie's parents feels like a completely different movie than what we just saw before. And, at the same time, while I appreciate the story's small and intimate nature, I would have also appreciated far more context as to what was going on worldwide. This movie's world isn't exactly as fleshed-out as A Quiet Place's was, so even with the brief newspaper clippings and news report, it doesn't quite work as well. The reason I feel that is is because the movie centers so much around trying to find a way to fix what's wrong with Stephanie, so that additional context is necessary, in my opinion. In A Quiet Place, the movie focuses more on just surviving. The characters in that movie don't focus on how these monsters came to be or what caused them to come to earth, they just want to survive. You don't need to know about the monsters to get into that movie because, again, it's about survival and not the details that led to their arrival. In this movie's world, while the people are very much in the dark as to why what happened happened, they still know enough to know that it's only affecting children and there's nothing you can do to stop the monster from taking over. So the movie COULD have provided more context to help me understand and maybe getting into its narrative more. And, at the same time, the movie also tries to show the worldwide scale of the invasion at the end and, honestly, I don't know, but it was a little unnecessary. Not only because you get to see what Stephanie can once she's released, but because of how much more interesting it would have seen to see how this is affecting the entire world. I don't know, I can't use that against this movie, in a way, but I felt that showing me that made this movie's scope far more limiting than it should have been. I don't know, maybe I'm being picky. But, regardless, I still know that I didn't feel that this was a good movie. It just doesn't go as far as it should with its concept and while its family-driven drama with hints of horror was decent enough, I feel like it should have been better than it was. It also doesn't help that the first half or so of the movie is a little dull and uninteresting. Everything after that, but only up to the ending itself, is solid enough, but its flaws, in my opinion, held it back. I do have to give it props for having a good concept. A concept whose predictability is not actually a negative. But it falls just short of good, in my opinion. I wouldn't recommend this, but I'm certain some of you might find something to enjoy here.
Jesse Ortega
Super Reviewer
Stephanie Quotes
There are no approved quotes yet for this movie.