Steppin: The Movie
(2007)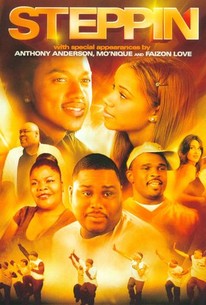 AUDIENCE SCORE
Critic Consensus: No consensus yet.
Steppin: The Movie Photos
Movie Info
A college campus springs to life when the local radio station announces the official opening of the step competition season. At UTS, the Greeks rule the campus but the Steppers are the kings of the hill. Step season is underway, and with a big money prize up for grabs the heat is on. As the fraternities and sororities work to recruit the best talent around, dance fever sweeps the campus. Anthony Anderson, Faison Love, and Mo'Nique star.
Rating:
PG-13
Genre:
Directed By:
Written By:
On DVD:
Runtime:
Audience Reviews for Steppin: The Movie
Absolutely terrifyingly bad. Basically, some magical all black (except one) Texan university has a competition about singing terrible faux songs and making stupid dance. The script and acting was just horrifying, at least get a decent camera please. You cannot understand what the characters are saying half of the time, also the camera distance keeps changing for no reasons making it hard to properly watch the film. It's a utter piece of junk if you ask me.
Sylvester Kuo
Super Reviewer
The most HORRIBLE movie I have ever seen!!!! What in the WORLD?? These writers need to stick to a part-time job in retail, food services, or better yet get a COLLEGE DEGREE to know how to write a full movie with a PLOT and no inconsistincies! Also with a damn college degree you get the college EXPERIENCE in which you would KNOW how black fraternity and sorority greek life is. How DARE you make this movie with an all-star class with GREAT acting reputation and mess that all up on this horrible ass movie. When did u know a stepshow to be 3 minutes long? You have a movie about steppin but the stepshow is the wackest and 2 minutes long?? There was no moral to this story, the two main characters (although I love their other work) had no chemistry and overall SUCKED! Omg me being a member of a black organization, you disgraced ALL of us, the whole NPHC!!! What in the world? I am shamed. That is all. P.S. I wanted to put a 0 on the fresh tomato rating....but they wouldn't be me. That is all.
Ashley Wright
Steppin: The Movie Quotes
There are no approved quotes yet for this movie.