Steve-O - Out On Bail
(2003)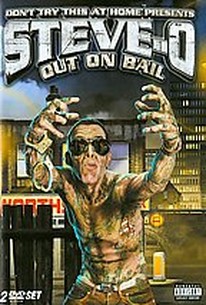 AUDIENCE SCORE
Critic Consensus: No consensus yet.
Critic Reviews for Steve-O - Out On Bail
There are no critic reviews yet for Steve-O - Out On Bail. Keep checking Rotten Tomatoes for updates!
Audience Reviews for Steve-O - Out On Bail
This is by far one of the worst things that I have ever watched. Stupid beyond belief, with no shred of comedy, this film is horrible, pointless and a waste of celluloid. Steve O is the worst of the Jackass bunch and what he does is simply for gross out factor. I really don't know why he's seen as awesome, he's not. I find him to be crude, stupid and plainly unfunny. Every time I've watched Steve O perform a stunt, he's made me sick. This is a poor collection of his stunts that is sure to please his fans, but will disgust everyone else. If you love Jackass stick with that, but avoid this, as this is nothing like the films or the show. Steve O has always been the unfunniest one of the Jackass gang, and he has done only a few funny things, but as a whole, he's more gross than anything. I hated watching this, and it really made me hate the guy even more. If you're looking for something funny to watch, you won't find it here. This is a stupid, pointless flick that should never have seen the light of day. I hated the film and thought that it lacked anything that made Jackass really funny. This is not comedy; this is trash plain and simple. If you love Jackass, stick with that, and avoid this. This film doesn't have anything worthwhile and just lacks anything funny, memorable and fun. Steve O- Out On Bail is definitely not worth your time even if you love Jackass.
Steve-O - Out On Bail Quotes
There are no approved quotes yet for this movie.
Discussion Forum
Discuss Steve-O - Out On Bail on our Movie forum!