Stevie
(2003)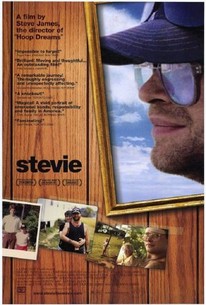 Movie Info
Documentarian Steve James, who directed "Hoop Dreams" in 1994, embarked on a new mission the following year. In 1995, he returned to rural Southern Illinois to reconnect with Stevie Fielding, a troubled young male to whom he had served as mentor and Big Brother, ten years earlier. James intended to capture the happy reunion on camera. What he discovers, instead, is a grown-up, Stevie, who is utterly impoverished and living in a trailer park. The filmmaker embarks on a quest to uncover what exactly happened to Stevie over the past ten years; as well, James tries to understand the forces that ultimately shaped Stevie's life and turned it into the dour existence that it has become. Part way through the filming, Stevie is arrested and charged with a serious crime that rips his family apart. That which was intended to be a modest profile turns into an intimate four-and-a-half-year chronicle of Stevie, his broken family, the criminal justice system, and the filmmaker himself--as they all struggle with accepting the crime that Stevie has committed, while trying to understand the person who has become.
Rating:
R (for language and descriptions of abuse)
Genre:
,
Directed By:
In Theaters:
On DVD:
Runtime:
Studio:
Critic Reviews for Stevie
Audience Reviews for Stevie
½
Well done. Interesting. You get a glimpse of southern Illinois that isn't surprising if you've spent any time there.
Lisa Whelpley
Steve James' only good work along with Hoop Dreams. I liked this a lot more the first time I saw it. It felt real. Upon a recent viewing I felt this was a pain to sit through. James gets his point across about halfway through the doc, but you're forced to sit through another 70 minutes of exploitation. And I have a hard time figuring out why he wanted to make this film. You never really find out his true feelings about Stevie. First he feels sorry for him, then he bashes him for his poor decisions, then he defends him. In the end I felt Stevie was a monster. Molesting children is inexcusable. I don't care how hard your life was growing up. It's still an interesting story though.
Lucas Yothment
Heart wrenching and real, this documentary shows what on the surface appears to be simply an undereducated young man. As it unravels we begin to see more of the troubling details of his life. Very well done documentary.
Jamison R
Stevie Quotes
There are no approved quotes yet for this movie.
Discussion Forum
Discuss Stevie on our Movie forum!