Still Life
(1993)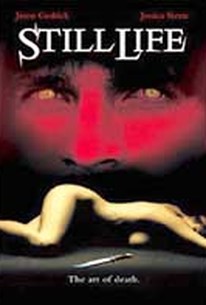 AUDIENCE SCORE
Critic Consensus: No consensus yet.
Movie Info
Rating:
R (for language, some violence and brief sexuality)
Genre:
Directed By:
Runtime:
Critic Reviews for Still Life
There are no critic reviews yet for Still Life. Keep checking Rotten Tomatoes for updates!
Audience Reviews for Still Life
½
I'm used to having discrepencies on the year of release of a film between the imdb and the rt database, but [i]Still Life[/i] is a bit of a stretch. RT lists it as 1993, when the video was released, but the IMDb shows 1988 as the production date, which means either the IMDb is way off or this thing sat on the shelf for five years before getting dumped to video. Always a good sign. It's possible that the rights holders of the film were simply waiting for the triumphant return to fame of star Jason Gedrick. You remember Jason Gedrick, don't you? The kid from [i]Iron Eagle[/i] and [i]The Heavenly Kid[/i]? For a second in the mid-'80s, Gedrick looked like he was going to be another Tom Cruise, or at least another Jason Patric. Unfortunately for him, the movies he kept showing up in got less and less attention--only someone as film-crazed as I am remembers [i]Power 98[/i], [i]The Force[/i] or [i]Crossing the Bridge[/i]. And then there's [i]Still Life[/i], which stars Gedrick as a bohemian New York musician who makes fourth-rate Art of Nosie knock-offs in his huge loft apartment. [i]Still Life[/i] has an idea that's been used before, but seems to work well--the homicidal artist. It seems someone calling himself the "Art Killer" (or A.K.) has been bumping off homeless people and turnign their corpses into macabre works of non-performance art. Gedrick and his girlfriend Nellie (Jessica Ambrose) are at the center of it, and the killer seems to be framing him. There's a few different ways to go about a film involving a serial killer. You could make it into a police procedural, as the cops (or whoever) track down the killer, a la [i]Silence of the Lambs[/i]. You could focus on the killer themself, which allows for lots of acting on the part of the actor playing the murderer, a la [i]Badlands[/i]. Or you could show how one person is being harassed and surrounded by the killer in a psychological freak-out, a la [i]Apartment Zero[/i]. The problem with this last option is that you need to have solid, interesting characters and a fair share of people that could logically be suspects. Still Life has exactly one developed character outside of the main couple, so the identity of the Art Killer is obvious about ten minutes in. In fact, for much of the film, the Art Killer's presence is barely a factor at all, as it all focusses on Gedrick and Ambrose's relationship (yawn) and how depressed he is about his music career. For those who love scenes were musicians look determined and create music at a keyboard, [i]Still Life[/i] is your movie. Of course, you'll still have to put up with the crappy mid-'80s mediocre electronica. There's so many interesting ideas in [i]Still Life[/i] that it becomes frustrating to see none of them developed fully. First-time director Graeme Campbell doesn't bother with caring about sub-plots like the public's obsession with the Art Killer that views him as an artistic hero, or the killer's sending Gedrick videotapes that verge on being avant-garde performance pieces demanding that he compose him a theme song or else he'll kill his girlfriend. No, Campbell's direction is hopelessly bland for a movie about the New York art scene, and the flatlining performances don't help either. There's a couple of bright spots, like Stephen Shellen's supporting role as Gedrick's best friend, but it's really just a bunch of missed opportunities. I'd been holding on to this screener for a long time (since 1993, apparently) under the impression that it might be some sort of unseen gem, but it's sadly just the dullest movie based around an artistically inclined serial killer I've ever seen. Gary Farmer appears briefly as an Art Killer fan, but if you blink, you'll miss him. Gedrick and Steen are reunited (!) this year for the upcoming TV movie [i]Rapid Fire[/i]. Woo. (The cover of [i]Still Life[/i] pictures an apparently nude woman as the victim of the killer. The film itself contains only old, homeless victims, and no nudity whatsoever. Classy.)
Paul Freitag
Still Life Quotes
There are no approved quotes yet for this movie.