Still Life
(2015)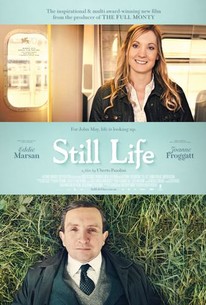 TOMATOMETER
AUDIENCE SCORE
Critic Consensus: Still Life moves with a quiet grace that some viewers may mistake for mannered passivity, but rewards patience with genuine poignancy.
Movie Info
Life for the unassuming John May (Eddie Marsan Happy-Go-Lucky, "Ray Donovan") has always revolved around his work for the local council in South London, finding the next of kin of those who have died alone. Profoundly dedicated to his work, he believes that everyone deserves a dignified exit, and writes eulogies and organizes funerals for those who wouldn't have them otherwise. But when a new case - an elderly alcoholic in a flat directly opposite his own - hits him harder than usual, he journeys outside London to track down the man's long-abandoned daughter (Joanne Froggatt "Downton Abbey"). Against the odds, the two lonely souls are drawn to each other - and John's outlook starts to open to life's possibilities. (C) Tribeca
News & Interviews for Still Life
Critic Reviews for Still Life
Audience Reviews for Still Life
½
A sweet and simple film about moving on. #stilllife boasts a clever script and an interesting performance from Eddie Marsan, which director Pasolini utilizes to tell a small story that works for what it is.
Nathan Martin
A soulful if obvious meditation on lives lived unshared, and one man's dedication to righting those wrongs while neglecting his own life.
Lee Mayo
½
"Still Life", if anything, is a wholly one-of-a-kind experience. It didn't particularly make me sad, but it did make me a bit depressed. And, for some strange reason, I was o.k. with that. On first look, this could easily be explained as one of those "nothing happens" movies, but I really think the better name for the type is an "everything happens" movie. Technically, this film is boring/unexciting/whatever you call it precisely BECAUSE too much is going on - too much the average viewer wouldn't care about. Long still shots show council worker John May (Eddie Marsan) organizing his desk, eating a pastry or looking through a photo album. We get to see the little details of May's life we generally wouldn't care to see, and so we get to know a person in his entirety, becoming a part of his lonely existence. The film is full of small, inconsequential events filmed with little manipulation (maybe 2 or 3 pans in the entire film) apart from an apparent dark blue filter to make May's life just that hint more mundane. He is neat, organized, and quiet, and the film channels that with very limited incidental music, dialogue or even background noise besides the totally necessary, and a cold simplicity in shots, with just as many shots used to set the tone as to advance the plot. The plot details May's work for the council as a kind of death detective, who locates the long-lost families of deceased townsfolk who have passed away without leaving any signs of connection to other people. For the most part, he's unsuccessful in finding people related to or friends with the people he represents, so ends up organizing and attending each of their funerals alone. Of course, having that as the entire plot would be even more dull than the film already is, and so a large chunk of the film is devoted to his attempts to locate the daughter of one of his dead clients. He goes around the area discovering old friends and family of the dead guy, eventually unravelling the mystery of his life. This is a mood piece, intended to relay the kindly spirit of a man who's one of a dying breed. May's boss continually comments that his work is worthless - why hold a funeral for someone who won't have any visitors - and a lot of times I was forced to agree. That's kind of why I wasn't sad at any point in this film; I legitimately didn't find his work all that worthwhile until, at least, he managed to start finding the friends and family of his new client. But the film portrays John as a caring and lonely individual, and makes it easy to connect with the man's devotion to his work, however inconsequential. The film of course paints his work as very consequential by the end - an ending I didn't much agree with - but I suppose it's up for you to decide whether or not you do think this kind of work is important. Regardless, "Still Life" is a mesmerizing character study, one that held me under its spell for its entire running time. It's total escapism, transporting you to a world you won't experience anywhere else. Whether or not you agree with the world is up to you, but it's worth taking the plunge.
Cameron Johnson
Still Life Quotes
There are no approved quotes yet for this movie.
Discussion Forum
Discuss Still Life on our Movie forum!