The Stitcher
(2007)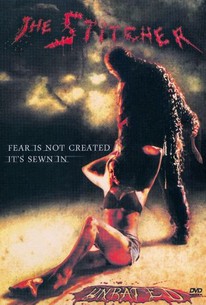 AUDIENCE SCORE
Critic Consensus: No consensus yet.
Movie Info
Inspired by actual events, this shocker from the director if Toe Tags and Branded takes viewers to a backwoods town that harbors a terror beyond human comprehension. A group of friends have become hopelessly stranded in a small town that at first seems as innocuous as any other remote spot on the map. But something strange is happening in this particular town, and by the time these teens realize that horrifying fact it will already be too late. A legendary killer is lurking in this town, and he longs to claim possession of everything this unsuspecting group has ever called their own. With no hope of rescue and no understanding of the terrifying trap they have all fallen into, this group now has no choice but to give in to the Stitcher's depraved obsession.
Rating:
NR
Genre:
,
Directed By:
In Theaters:
On DVD:
Runtime:
Studio:
Audience Reviews for The Stitcher
½
As crappily filmed, terribly acted, and poorly plotted as a film can be, The Sticher still manages to be entertaining in the stupidest way possible.
Al Miller
Right from the very get go, The Stitcher hits the ground running, and so does a shirtless woman who makes her way through the desolate streets of town, adhering to the Four B's of Horror: Bruised, Bloodied, Blonde, and Busty. It's clear that the woman (who is actually Darla Enlow, the film's director!) is running from something evil, which eventually catches her, thus setting up the opening credits and then a very sunny next day deep in the heart of Oklahoma, where a group of adults (comprised mostly of hot women and not-so-hot men) come together at one's newly inherited house for a weekend getaway of relaxation and lots of boozing. One of the guests is not-so-lucky as her trip to the house is cut short when she gets lost in town and has her own run in with our film's mysterious killer, not to mention some of the locals. This doesn't stop the other people from continuing the party, that is, until the police arrive and start to worry them. Not just that, it looks like other members of the house are starting to disappear one by one until it becomes clear that a crazed lunatic is running around, wearing a potato sack mask and a ton of stitched on buttons which serve as his trophies for the victims he acquires. Can what's left of the surviving cast make it out of the house, or even the town, alive? The Stitcher is your standard slasher horror that follows many of the rules established by others of the same subgenre. It features a moderate body count that's a bit low on blood, and while the origins of the killer is a bit hokey, the fact that they kept him in the shadows and only showed relatively small glimpses of his get-up all throughout the film is one of those elements of subtlety that I enjoy. Granted, the line of women in this film is impressive, and the majority of them are quite good looking, but if you're looking for an onslaught of nudity, you'll be disappointed as practically none of them get naked and the nudity that IS present in the film is seen in a couple of rapid flashback scenes towards the end. Still, with these small shortcomings, The Stitcher is still miles better than some REAL stinkers out there and is especially enjoyable if you happen to be one of those rare fans of the Shot-on-video genre of films rather than a lot of the mainstream nonsense, like myself. I will say this film's biggest win is in the humor department, namely their constant jabbing at Oklahoma locals, or more specifically, hillbillies. Just about every one of them is portrayed in a comical light that one may genuinely believe is presented in a way that seems exaggerated and over-the-top….but sadly, no. I found myself looking forward to every new hillbilly character that showed up, as each one genuinely gave me a laugh. Aside from that, the established cast is also commendable in their roles, which are pretty much your standard characters necessary for a horror film, like the nice guy (lead Scott Gaffen, who really does seem that nice in person!). There's also the bitch, the dumb blonde, and the comedian. Kudos to Christopher Rowe who pulls double-duty by playing both one of the lead characters as well as The Stitcher killer. From the very get go, it's quite clear that The Stitcher embodies the characteristics of D-I-Y- filmmaking. To the untrained eye, one would immediately discredit this film as a bad act of amateur filmmaking mixed with bad actors and even worse special effects. Let's not forget that these very people like to sit and judge all day on their stupid blogs an would never have the gumption to go out on their own and make a film. These people are also fans of such craptastic mainstream bullshit like anything that's a remake, completely unoriginal, or whatever they're playing at the multiplexes these days. No, real ambition comes from the little guys. Yeah, Stitcher is definitely low-budget and a bit on the amateur side, but there's a lot of ambition and heart that went into this film (something that's clearly evident in the DVD's special features). It's not the greatest movie in the world, but I had fun watching it and in the end, isn't that all that really matters?
Jason Duron
½
This is another one of those indie, low-budget horror films that I really wish I liked more than I do. This is partly because the brief contacts I've had with director Darla Enlow and stunt coordinator/co-producer/VCI staffer Christopher Rowe have left me with a sense that they're likable people, but also because I've no doubt everyone involved with this production was giving it their best efforts. However, those best efforts have were taking everythin seriously as they could, that they were making the best movie they knew how, and that there are several nice moments in it, the fact is that it's a run-of-the-mill-slasher flick with a poorly developed backdrop, a script that should have seen another draft or two, and a cast of so-so actors.
Steve Miller
The Stitcher Quotes
There are no approved quotes yet for this movie.
Discussion Forum
Discuss The Stitcher on our Movie forum!