Stitches
(2013)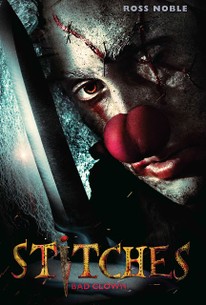 Movie Info
STITCHES, starring funny man ROSS NOBLE, is the black-comedy horror that has become one of the most anticipated films of the season. Directed by CONOR MCHAHON (Dead Meat), the film enjoyed a hugely successful screening at this year's Frightfest and won TOTAL FILM's 'Best Death' Award. Jaded Richard Grindle is the sleaziest clown working the children's party circuit in Ireland. Arriving late to one birthday, his timing is off, the bratty kids a nightmare and a prank goes horribly wrong - he falls on a kitchen knife and goes to that Big Top in the sky. Years later the same nasty kids attend another more grown up bash. Little do they know, thanks to a black magic clown cult, Stitches will be the uninvited guest of honour seeking revenge on those responsible for his untimely death. Laughs and gore combine in this twisted tale which also sees some fantastic performances from its young and upcoming cast that includes; TOMMY KNIGHT (Doctor Who) and GEMMA-LEAH DEVEREUX (The Tudors).(c) Official Site
Critic Reviews for Stitches
Audience Reviews for Stitches
½
I hope to keep this short, since I don't really have much to say about this movie. This, technically, isn't a very good movie at all. The fact of the matter is that there's large chunks of the film that could've been cut out for the sake of pacing. The stuff at the high school is more hit than miss, in my opinion. Though there is one really funny line in there that has some very heavy sexual innuendo. So the social network in the film is called My Face, clearly an amalgamation of MySpace and Facebook. Tom's friend creates a page for the party at Tom's house and invites several people. So this girl confronts him about this and tells him that, and I quote, "you've invited all these people to come on My Face." It was actually surprising how they didn't play up this joke for all its worth, which, in turn, made what she said even funnier because they didn't repeatedly wink at you and point out the obvious sexual innuendo. So that was, easily, my favorite line in the movie. But I digress, even with the fact that the film is average and the acting isn't good, other than Ross Noble as Stitches, who plays the role completely tongue-in-cheek, I found myself having fun with this movie. It's obvious this wasn't meant to be taken seriously, it's definitely got a very tongue-in-cheek tone with its cheesy one-liners, that harken back to Freddy Krueger, and its ridiculously over-the-top death scenes. This is one of those movies that is inviting you to laugh at it, not with it. But it's not so self-aware to where the entire film becomes a parody of itself and stops being entertaining. I think this film finds that great balance between being self-aware yet still fun to watch. Instead of it being a self-indulgent love letter to how awesomely bad your movie is, like Snakes on a Plane. Definitely this is one of those midnight, B-movies that'll probably have a small, but very dedicated, cult following. And I can't blame them, the film is fun to watch, while not being good at all. Ross Noble steals the show as Stitches, with his cheesy one-liners and the way he, to the very best of his abilities, becomes this character. This isn't like Daniel Day Lewis becoming Lincoln to the point where you forgot he was actually an actor reciting lines and thought he was the real thing. But it's clear Ross relished this role and he just seemed to have a lot of fun with it, and that definitely translates on screen. The gore is ridiculous, but hilarious. And Stitches' death was certainly strangely funny, it keeps in line with how ridiculous the film is. So you have the gore and Ross Noble's dedicated performance and you have a movie that is definitely more than the sum of its parts. I'm not saying the film is good, but if you look at some scenes out of context, then it might not seem as funny. It works better as a whole, even if I found a lot of flaws with the pacing and the acting. This is an average movie at best, but it is still a lot of fun.
Jesse Ortega
Super Reviewer
½
[img]http://images.rottentomatoes.com/images/user/icons/icon14.gif[/img]
Directors Cat
Super Reviewer
½
Stitches is a fun and entertaining horror comedy that is quite refreshing. However it's not without its flaws. The thing that really stands out about the film is the kill sequences that are quite original and fun. If you are terrified of clowns, then this film is the one to watch. Clowns have always been a unique subject in terms of horror and, let's face it, they're creepy. This is an amusing twist on the traditional clown tale, and it is quite the original take on standard clown movies. The kill sequences are the best aspect of the movie and will certainly appeal to genre fans. The film at times just fall short, but overall this is a decent film worth seeing and is far better than most big budget films that we've seen so far. The performances here work well for the material, and Ross Nobel is a great choice for the lead role. Films like this are what's needed in the horror genre because they're original, creative and worth seeing due to their ideas and concepts. If you want to watch something refreshing in the genre, Stitches is that film. Taking a creepy clown concept and turning it around to reinvent something that we've been scared of for years. The film may be imperfect and ranges from decent to good, but is a far better movie than most in the genre nowadays. Give it a shot; you may be surprised by how good it really is. The film may have its fair share of imperfections, but is a fun ride from start to finishes. This is one of the most memorable clown movies since Killer Klowns from Outer Space.
Stitches Quotes
There are no approved quotes yet for this movie.
Discussion Forum
Discuss Stitches on our Movie forum!