Stoic
(2009)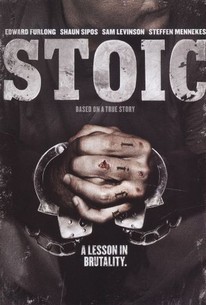 AUDIENCE SCORE
Critic Consensus: No consensus yet.
Movie Info
Inspired by actual events, director Uwe Boll's claustrophobic prison drama explores the chilling results of group psychosis. An inmate is discovered hanged in his cell, and when investigators begin interrogating the dead man's cellmates, the dehumanizing events that led to his gruesome demise gradually come into focus.
Critic Reviews for Stoic
All Critics (1) | Fresh (1) | Rotten (0) | DVD (1)
A blistering tale of group psychosis and Darwinist brutality... The results, though a little stagey, are raw, confronting, and unremittingly grim. It is Boll at his best.

Audience Reviews for Stoic
Soulless drama with a lacking story, and poor cast, Stoic is a bland film that really has no point. The intentions to create a serious drama are wasted due to the visceral quality that the film possesses. The cast here are terrible, and the film takes on a poorly made for TV feel, that just doesn't feel right. Stoic however is not made for TV, it just feels that way. This is one of the few more serious films by director Uwe Boll, and although he tried his best at making an effective drama, the film is purely a waste due to the fact that the film's plot feels stitches together within an hour or so. Boll is notorious in making bad films, but at times he has made good films. However Stoic, although a step in the right direction, doesn't deliver anything worthwhile for viewers. As you watch Stoic, you realize how bleak it really is, and how depressing the finished product is. Uwe Boll fails at delivering a good drama, and the cast really don't stand out here. Stoic is a train wreck by a director who clearly can't grasp at making an effective genre picture. Don't go into this one expecting a great film, you'll be disappointed. Boll would make a few better films, but Stoic isn't one of them. However, it does show that is willing to venture into more dramatic territory, which is good because all of his video game adaptations are horrible. Watch a different film if you want a better drama. Stoic is one of those films that have redeeming aspects to make it a truly engaging film going experience.
½
Stoic explores the question of weather or not prison turns minor offenders into hardened criminals, by telling a true story that happened in 2006. The story is most defiantly an eye opener, but the truth is that it doesn't make for a very good movie. Four inmates are trapped in the same cell, twenty-three hours a day. Most of them are in prison for minor offenses, with sentences ranging from six months to six years. As the men play cards, three get suspicious of the fourth, and once they decide he's a cheater, they begin to torture and humiliate the man until the next morning, when one of them winds up dead. Edward Furlong is the only actor of recognition in this film, usually one of my favorite actors, but even he has a hard time making this story work. The truth is that no matter the situation, anytime you place four guys in a room and watch them for an hour and a half, it's bound to get boring. Stoic goes to extreme lengths to be beyond boring, because of it's perfectionist director, Uwe Boll. Boll has a reputation of doing things his own way and being a perfectionist about it. The constant changing of the camera angles as well as the inmates telling their own stories in cutaways, is somewhat clever, but ultimately there really isn't much here to base a film on. Stoic was a good idea, that poses an important question, through a shockingly true story, but it lacks the substances needed to entertain an audience. In other words it was one big bore of a movie that you should absolutely avoid.
Todd Smith
Super Reviewer
Four Stars: Alongside Seed, Stoic ranks as a surprisingly solid film by otherwise retched filmmaker Uwe Boll. The film opens with an inmate being discovered hanging in his cell and then proceeds as a series of flashbacks instigated by the interrogations of his cellmates, who ended up playing more than minor role in his death. While Stoic mainly uses the supposedly true story for exploitative purposes, it still manages to somewhat provocatively explore the effect of incarceration upon the ethics and identity of convicts. In particular, Stoic explores how ethical judgment disappears in the face of peer pressure and how environment affects ethical decision-making. Brutalizing, tough-to-watch, and somewhat provocative, Stoic does not quite achieve the level of sophistication that it aims for (because it is Uwe Boll), but it still manages to be a disturbing yet somewhat insightful piece of exploitation cinema.
Al Miller
Stoic Quotes
There are no approved quotes yet for this movie.
Discussion Forum
Discuss Stoic on our Movie forum!