Stolen Seas
(2013)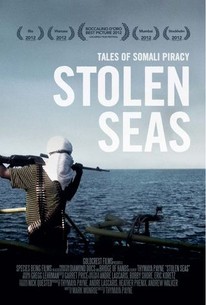 Movie Info
The filmmakers have spent the past three years traveling to some of the world's most violent locales in order to make this documentary on Somali piracy, Stolen Seas. Utilizing exclusive interviews and unparalleled access to real pirates, hostages, hostages' relatives, ship-owners, pirate negotiators and experts on piracy and international policy, Stolen Seas presents a chilling exploration of the Somali pirate phenomenon. The film throws the viewer, through audio recordings and found video, right into the middle of the real-life hostage negotiation of a Danish shipping vessel, the CEC Future. As the haggling between the ship's stoic owner Per Gullestrup, and the pirate's loquacious negotiator, Ishmael Ali, drags on for 70 days, these two adversaries' relationship takes an unexpected turn and an unlikely friendship is born. Stolen Seas is an eye opening refutation of preconceived ideas on how or why piracy has become the world's most frightening multi-million dollar growth industry. (c) Official Site
Rating:
NR
Genre:
,
Directed By:
Written By:
In Theaters:
On DVD:
Runtime:
Studio:
Critic Reviews for Stolen Seas
Audience Reviews for Stolen Seas
5/31/15 Netflix The third leg on the Somali piracy stool, Captain Phillips, Fishing Without Nets and now Stolen Seas. Hollywood main stream, European/African acted and documentary. This film may be the best and most in depth in telling all aspects of the story and covering all the problems from the business, ethnic and geo political aspects. Somalia is a screwed country as are the majority of its citizens.
Nick Ueber
½
The amazing thing about this documentary is that it tells the other side of piracy in the gulf of Aden...story of a country (Somalia) abandoned by the international world even when its neighbours get much-sought help after their respective independence. In a country where there is absolutely no way of escaping poverty (except thru crime and corruption), these pirates are simply looking to improve the lives of their families and their villages. This documentary opens our eyes about the fact that the Western countries choose to tackle the problem by sending more battleships to deter the piracy problem instead of helping to build schools and hospitals to ameliorate the conditions of Somalians. Sad.
Thomas Andrikus
Anything Somali Pirates I enjoy. So this is going to get a high mark. Interestingly enough though this was some good incite on the pirates and where they come from. I think the best tidbit of information is that they are all ex-fishermen who couldn't fish anymore because of American assholes. Truth is, while yes they can't fish as much, most of them are not ex-fishermen. They are just assholes. That's life for ya. Good Concept, Good Execution.
Erick Freitas
Stolen Seas Quotes
There are no approved quotes yet for this movie.