The Stone Killer
(1973)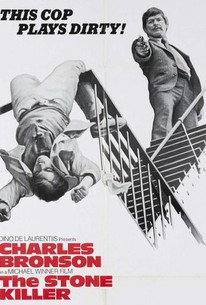 AUDIENCE SCORE
Critic Consensus: No consensus yet.
The Stone Killer Videos
The Stone Killer Photos
Movie Info
The John Gardner novel A Complete State of Death became this bloody crime flick that united frequent action genre collaborators Charles Bronson and director Michael Winner. Bronson stars as Detective Lieutenant Lou Torry, a grizzled undercover New York City cop who ruins his career when he is caught going violently overboard while apprehending a ghetto punk. As punishment, Torry is banished all the way to the L.A. Police Department, where he begins investigating a mysterious chain of events involving ex-soldiers that seem to be Mob related. It turns out that Don Alberto Vescari (Martin Balsam), an aging Mafia chieftain, is planning the use of mentally disturbed Vietnam vets as assassins in a campaign of murder. With one broad, gory stroke, Vescari schemes to wipe out his underworld enemies, retaliating for a massacre that wiped out a generation of Sicilian mobsters 40 years earlier.
Rating:
R
Genre:
, ,
Directed By:
Written By:
In Theaters:
Runtime:
Studio:
Sony Pictures Entertainment
Cast
Critic Reviews for The Stone Killer
All Critics (2) | Top Critics (1) | Fresh (1) | Rotten (1)

Chicago Sun-Times
Top Critic

Audience Reviews for The Stone Killer
First there was The Mechanic, then The Stone Killer and then Death Wish. If you want cops to bend or break the law to stop crime, watch these films. SEE the official trailer here for starters, then read on: http://www.reelz.com/movie/174732/the-stone-killer/clips/ [img]http://4.bp.blogspot.com/_cLxnR3lIheA/SbH9uB6ko4I/AAAAAAAACDA/npLwPy0oJ5s/s400/Roy+Budd+-+The+Stone+Killer++front.jpg[/img] "Top detective Lou Torrey is transferred to Los Angeles and uncovers a plot by a Sicilian mafioso to use Vietnam veterans to murder all his enemies in a rerun of the "Sicilian Vespers" when the previous generation of Sicilian mafiosi were all killed on a single day. Torrey gets various clues that something big is about to happen but will he discover what is planned before the big day?"--- Written by Steve Crook SEE this clip if you want of taste of the chase action: http://www.crackle.com/c/The_Stone_Killer#id=2483574&ml=o%3D12%26fpl%3D1148459%26fx%3D [img]http://t0.gstatic.com/images?q=tbn:ANd9GcQi-Jdv6BWyOnHcE--stUai09nQq1BQxaAozQoqqMkUG0nVCskT[/img] Charles Bronson became one of the very first of many badass characters to be followed by Clint Eastwood, Bruce Willis and so on. His role as a rouge cop or vigilante was to be repeated many times in cinema history. NOTES: 1 The Stone Killer is a 1973 film starring Charles Bronson directed by Michael Winner. It came out in between The Mechanic and Death Wish, all three of which teamed up actor/director Bronson and director Winner. 2 In a three year period in the early 70s (72/73/74) director Michael Winner made three violent thrillers with leading man Charles Bronson. Sandwiched in between The Mechanic and the wave making Death Wish, is this effective piece. A film that is for sure the weakest of the three but still a film worthy of reappraisal. [img]http://cf.drafthouse.com/_uploads/images/vault%202.jpg[/img] REVIEWS: 90% I didn't know what the hell was going on, but I loved every second of it. 10% Ok.. every now and then I pick a totally duff film this is one of the worst ! 100% Based on a novel by John Gardner starring Charles Bronson Films directed by Michael Winner 1960s Some Like It Cool (1961) Old Mac (1961) Out of the Shadow (1961) Play It Cool (1962) The Cool Mikado (1963) West 11 (1963) The System (1964) You Must Be Joking! (1965) The Jokers (1967) I'll Never Forget What's'name (1967) Hannibal Brooks (1969) 1970s The Games (1970) Lawman (1971) The Nightcomers (1972) Chato's Land (1972) The Mechanic (1972) Scorpio (1973) The Stone Killer (1973) Death Wish (1974) Won Ton Ton, the Dog Who Saved Hollywood (1976) The Sentinel (1977) The Big Sleep (1978) Firepower (1979) 1980s Death Wish II (1982) The Wicked Lady (1983) Scream for Help (1984) Death Wish 3 (1985) A Chorus of Disapproval (1988) Appointment with Death (1988) 1990s Bullseye! (1990) Dirty Weekend (1993) Parting Shots (1998) Directed by Michael Winner Produced by Michael Winner Written by John Gardner (Book: A Complete State of Death) Gerald Wilson Starring Charles Bronson Martin Balsam Jack Colvin Paul Koslo Norman Fell Music by Roy Budd Cinematography Richard Moore Distributed by Columbia Pictures Release date(s) August 8, 1973 Running time 95 min. SEE the entire film here: http://www.crackle.com/c/The_Stone_Killer [img]http://1.bp.blogspot.com/_gZEKCBxNWlY/Spj5gXGZlmI/AAAAAAAAAhk/ahPty2S-VPo/s400/stonekiller06.jpg[/img]
monsieur rick
½
I didn't know what the hell was going on, but I loved every second of it. This rare treat of a Charles Bronson gem is a hard one to find, hopefully it makes it's official DVD release soon. The soundtrack, pacing and action are top notch. It's one helluva ride.
Ben Eastman
Discussion Forum
Discuss The Stone Killer on our Movie forum!
News & Features