Stone Reader
(2003)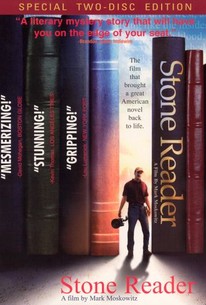 Movie Info
In 1972, 18-year-old Mark Moskowitz read a positive review in the New York Times Book Review that inspired him to get a copy of Dow Mossman's novel, The Stones of Summer. An avid reader, Moskowitz found himself unable to get through the book, and set it aside after 20 pages. Twenty-five years later, he finally picked it up again, this time reading it all the way through. Moskowitz was thrilled with the book, and immediately began looking for the author's other works. There weren't any. At this point, Moskowitz, who earns his living making political advertisements, began making a documentary, Stone Reader, which depicts his search for Mossman. He tracks down the writer of the original Times review, along with teachers, editors, agents, and other authors whom he thinks might have known Mossman or might have some insight into what happened to the author. He talks to critic Leslie Fiedler and author Frank Conroy, the head of the Iowa Writers Workshop, among others. Moskowitz tries to understand how it's possible for an author to write one outstanding book as a young man and then seemingly disappear. He also explores his own rewarding lifelong relationship with literature.
Rating:
PG-13
Genre:
,
Directed By:
Written By:
In Theaters:
On DVD:
Runtime:
Studio:
Critic Reviews for Stone Reader
Audience Reviews for Stone Reader
This isn't a good documentary. Towards the end of the film the director says he doesn't feel like finishing the film and in my mind I thought that I felt the same way. This flick feels mashed together. He heads out on these trips to interview people about the book, spend a lot of his personal time and money to seek these people out, and he didn't even bother to ask if they remembered anything about the book before heading out. A lot of his problems could have been solved if he had asked "Do you remember anything about this book? No? Ok thanks anyway." Most of his interviews went downhill fast. Plus he seemed to talk most of time. I really didn't feel like sitting through anymore when he finally tracks down the author and plans to meet with him. I pushed through the last half hour as he interviews the guy and when the movie ends I was upset. We received no answers to any of the questions that he had been searching for through the whole movie. All we had we a couple of random stories from this mans life and not once did the director think to ask... why did you not write another book? This movie fails for a lot of reasons and the biggest one being the director being more interested in himself than the story he was supposed to tell.
Jason Spencer
Super Reviewer
The only thing this movie excels at is clearly revealing the inexcusable and blatant rudeness of Mark Moskowitz. Over and over and over again the camera captures his arrogant, self-important irreverence for sensitive people far more intelligent than he is. We alternated between cringing and angrily yelling at the screen as he rudely barged into the offices of publishers, authors, professors, and the library at the Iowa Writers workshop, expecting them to drop everything and come scrambling to his aid. Does he expect everyone to cower in awe at his intelligence? He carries the expectation that people will suddenly come to the astounding realization that he is uncovering the novel of the billenium. The truth is that it was a good book, but that's no excuse for bullying people. An aside, is it really a mystery that some authors only publish one book? Isnt that alone a triumph? Maybe it was ok that it went out of print. Obscurity has its benefits, when you have self respect. Of course, Dow Mossman's obscurity was shattered when he received the phone call that fateful night, and he encountered Mark's rude, interrupting ways. Part way through the first conversation with the reclusive writer, Mark hands the phone to someone else with no warning at all. After waiting impatiently, you then see his hand grabbing to get it back, with no regard for the fact that two old friends are catching up after years apart. Unbelievable. But the camera never lies. The only reason the movie is worth seeing is that regardless of Mark's rudeness, you get to meet several choice characters, and they do not disappoint. Mossman himself is thoughtful, and generous, and somehow manages not to hear as Moskowitz interrupts his profound reflections on literature. If you were equally unsatisfied with this documentary, may we suggest King of Kong? One of the key ingredients to a successful documentary is unbiased interest, and the ability to restrain the self from interfering with the subject's life! Mark, if you are reading this, please watch the movie and honestly ask yourself if you could have been a little more sensitive with Dow. Near the end, you interrupt him and say "Let's go upstairs." The next thing you know, Dow is meekly following you around as you enter rooms and root through drawers with no permission, as far as we could see. You treat his posessions with no respect. You charge through his basement looking through things, and he doesn't say a word. If he were a different person, maybe you would have been told to get the h*ll out of there and leave his things alone. One last thing. That moment when Dow shows us a picture of himself with a big bunny rabbit. He carefully pulls it out of an envelope, and sure enough in seconds Mark is grabbing for it. Dow doesn't give it to him, but gently unwraps the tissue paper and shows it to the camera. Mark grabs again, and this time you can see him holding it with no respect, his thumb squarely in the middle of the print, i'm sure leaving some big thumbprint on it. I'm sure Dow is grateful to have his book back in print, and you brought him back from obscurity. But does that excuse your unspeakable and constant rudeness? It's not too late to change.
Lisa Haubschmidt
½
[url="http://www.rottentomatoes.com/m/stone_reader/"][img]http://images.rottentomatoes.com/images/movie/coverv/13/221713.jpg[/img][/url] Fascinating documentary. Any more would be a spoiler. Two hours of fun for serious readers and writers. Glad I saw it.
M Sarki
Stone Reader Quotes
There are no approved quotes yet for this movie.
Discussion Forum
Discuss Stone Reader on our Movie forum!