Stone Reader
(2003)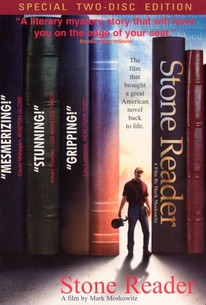 Movie Info
In 1972, 18-year-old Mark Moskowitz read a positive review in the New York Times Book Review that inspired him to get a copy of Dow Mossman's novel, The Stones of Summer. An avid reader, Moskowitz found himself unable to get through the book, and set it aside after 20 pages. Twenty-five years later, he finally picked it up again, this time reading it all the way through. Moskowitz was thrilled with the book, and immediately began looking for the author's other works. There weren't any. At this point, Moskowitz, who earns his living making political advertisements, began making a documentary, Stone Reader, which depicts his search for Mossman. He tracks down the writer of the original Times review, along with teachers, editors, agents, and other authors whom he thinks might have known Mossman or might have some insight into what happened to the author. He talks to critic Leslie Fiedler and author Frank Conroy, the head of the Iowa Writers Workshop, among others. Moskowitz tries to understand how it's possible for an author to write one outstanding book as a young man and then seemingly disappear. He also explores his own rewarding lifelong relationship with literature.
Critic Reviews for Stone Reader
Audience Reviews for Stone Reader
This isn't a good documentary. Towards the end of the film the director says he doesn't feel like finishing the film and in my mind I thought that I felt the same way. This flick feels mashed together. He heads out on these trips to interview people about the book, spend a lot of his personal time and money to seek these people out, and he didn't even bother to ask if they remembered anything about the book before heading out. A lot of his problems could have been solved if he had asked "Do you remember anything about this book? No? Ok thanks anyway." Most of his interviews went downhill fast. Plus he seemed to talk most of time. I really didn't feel like sitting through anymore when he finally tracks down the author and plans to meet with him. I pushed through the last half hour as he interviews the guy and when the movie ends I was upset. We received no answers to any of the questions that he had been searching for through the whole movie. All we had we a couple of random stories from this mans life and not once did the director think to ask... why did you not write another book? This movie fails for a lot of reasons and the biggest one being the director being more interested in himself than the story he was supposed to tell.
Jason Spencer
Super Reviewer
The primary problem with this film is that the director imposes far too much of himself which is irrelevant to the film's purpose. While it is important to understand his relationship with this book, it is not necessary to watch several minutes of montage with voice-over of the director talking about his personal life, e.g. his schedule, his career, his family, things which in his perspective may have affected his making of the film, but are really just without impact or purpose. For being an avid reader, this obviously green doc director does not seem to understand much of the publishing industry, constantly questioning "How could this book slip through?" and yet never researching (reading up on) the publishing industry. His interviews are awkward; he doesn't always ask the right questions, but often his interviewee is intelligent enough to supplement these answers anyway. As a fiction writer, some moments tug at me emotionally, especially the agent's reaction to certain books and authors that are mentioned. This is really a movie for writers, not giving much informative insight into artistic process or the publishing industry, but more mere self-indulgence than anything.
_kelly .King
Super Reviewer
Stone Reader Quotes
There are no approved quotes yet for this movie.