Stone's War
(2008)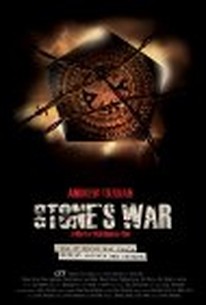 AUDIENCE SCORE
Critic Consensus: No consensus yet.
Movie Info
A platoon of American and Finnish soldiers is driven deep into a Russian forest where its Captain discovers a terrifying secret.
Critic Reviews for Stone's War
There are no critic reviews yet for Stone's War. Keep checking Rotten Tomatoes for updates!
Audience Reviews for Stone's War
½
Sooooo I don't think I need to explain in too much detail what this is all about do I? Well just quickly...evil Nazi's experiment on captured soldiers during WWII to turn dead soldiers into living ones again (original huh). Some time later a platoon of elite Finnish and US troops (why elite?) are looking for a secret bunker in the same area all the nasty experiments happened (convenient huh). It turns out they find the bunker where all the nasty experiments happened and low and behold we have all out zombie fisticuffs. So not the most original plot ever devised, in fact its so unoriginal its completely ridiculous that anyone even suggested making it. I can't compare it to famous zombie fetishist Romero, this film is more intone with more recent zombie films where the action is very action packed. The zombies are fast running, leaping, fighting, airborne, tree climbing and quiet intelligent for the living dead, they're almost like aliens out of Jim Cameron's flick. You could actually say this film has hints of 'Aliens' in it. The score, the way it progresses, the gloomy dimly lit locations, how the zombies pop up out of any crack or crevice and obviously coupled with the military aspect. The problem is the film is just too predictable and dull, there isn't really any tension because you know what's gonna happen...just about. What's really dumb (apart from the sequence where zombies attack from the treetops) is the platoon is pretty much wiped out after about 30mins into the film leaving about four men and very little 'goodie killing'. They killed almost all the good guys way too quickly but still manage to get a helpless woman involved, can't do without that. The WWII aspect is your typical gruff stuff with butch US troops thinking bullet wounds are merely flesh wounds you just walk off and the Finnish troops being errr...not so butch. The plot isn't really explained too well, all we know is the Nazi's have been experimenting on soldiers 'Wolfenstein' wise and that's it. I guess we don't need anymore, dunno what that little metal clockwork gadget was suppose to be, like something from a Del Toro film. Another big mistake was not really exploring any of the characters, there are lots of troops but they're all faceless bullet fodder I'm afraid, you won't care about any of them. On the plus side the film looks really good it has to be said. You would think this is a major Hollywood action film with the excellently lit sets and locations, great camera work, good score and well choreographed action sequences, hardly a B-movie in any sense. If you like a constant stream of zombies attacking a tiny group of people that are winning consistently never running out of ammo then this could be for you. Not much room to be breathe as the film whips along pretty fast, not much gore or blood either surprisingly. Its almost a good film but they go over the top with silly moments (these are zombies not vampires or werewolves), also the uber baddie zombie seems way too clever. Tries a bit too hard to be a cool action flick also, too many laugh out loud moments with close ups on hero faces as they try for cool memorable lines...'I ain't dead yet'. Apart from all that its not too bad but you've basically seen it all already in another film.
Phil Hubbs
Super Reviewer
Stone's War Quotes
There are no approved quotes yet for this movie.
Discussion Forum
Discuss Stone's War on our Movie forum!