Shunpu den (Story of a Prostitute)
(1965)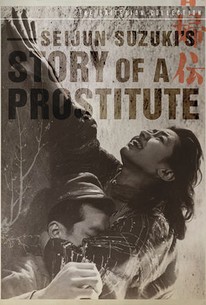 AUDIENCE SCORE
Critic Consensus: No consensus yet.
Movie Info
Seijun Suzuki directed this hard-hitting account of a woman who volunteers to serve as a "comfort woman" (prostitute to the Japanese army) at the Manchurian front in 1937. Harumi (Yukimo Nogawa) is desperate to get out of Japan to escape the memory of a doomed romance. She offers to serve the Army in Manchuria, where the sadistic Lieutenant Narita (Isao Tamagawa) uses her violently and wants her as his private servant. However, Harumi has become infatuated with Mikami (Tamio Kawachi), Narita's subordinate, and they embark on an affair that would mean certain punishment for both of them if it were ever to be discovered. Diary Of A Prostitute was based on a novel by Taijiro Tamura, which was previously filmed (in bowdlerized form) in 1950 as Escape At Dawn. ~ Mark Deming, Rovi
Critic Reviews for Shunpu den (Story of a Prostitute)
All Critics (3) | Fresh (3) | Rotten (0) | DVD (3)

Ozus' World Movie Reviews
Those solely familiar with the director's brand of yakuza cartooning will be taken back by the midway shift from carnal to spiritual.
Audience Reviews for Shunpu den (Story of a Prostitute)
As far as war movies go, Suzuki Seijun's "Story of a Prostitute" is not as straight forward an indictment of war as we are used to, nor does it attempt to argue the values of war in some imperialistic poetic fashion; rather it is more of the Japanese war-film equivalent of "Easy Rider" than "Paths of Glory". Director Suzuki is much more of an easy going rebel in his films, utilizing every camera trick in the book in order to get his thoughts across on screen. His courage as a filmmaker can be found quite easily in "Story of a Prostitute" a story of the 'comfort women' who gave enlisted men and officers alike the company of their presence. Harumi (Nogawa Yumiko) is a professional prostitute who has offered her services to her country by traveling to a small village on the Manchurian front where she hopes to escape the memory of a man whom she had pleasured and subsequently fallen in love with, only to find that he has married another woman. Disgraced and angry she takes on the laborious task of drowning her sorrows in fruitless encounters. Harumi quickly becomes the favorite plaything of a sadistic commanding adjutant, Lt. Narita (Tamagawa Isao), a man who will beat you as soon as look at you -- woman and soldier alike. To Lt. Narita there are only officers who qualify as human -- all else are simply disposable waste which is their job to die in battle for his glory. Mikami, an officer demoted to Private for "un-patriotic thoughts" (Kawaji Tamio) has been sentenced to be the assistant of the adjutant which requires his absolute dog-like obedience and willingness to be mistreated. Harumi, after an encounter with Narita, spots the fragile Mikami and instantly finds an emotional pull toward him. Mikami fights her advances however, unwilling to stand in contention with his superior in any way. Ultimately Harumi brings Mikami to the point of giving in and a bond is then created between the two. As the story continues, Mikami is wounded in battle and subsequently taken prisoner by the Chinese. Being against the strict code of the Japanese military to be taken prisoner by the enemy, Mikami is faced with a chance at life as physical prisoner, or face court-marshal and possible death by execution at the hand of his countrymen. This notion of being held captive is at the heart of this film. Harumi is trapped by her need to escape the torment of her old lover; and Mikami is held unfailingly by the age old tradition of homeland which, in the film, is presented in unflinching opposition. Director Suzuki, who fought in the second World War, speaks in an interview on his views of battle. He finds it neither tragic nor horrifying -- rather, comically inane. Men running toward death with only the hope of living long enough to bring another man to death before his own. Suzuki's commentary regarding his country's bygone ideas of morality is quite clear: he finds it all rather foolish. In fact, if it were not for the director's lighter touches and laid back manor, one might group him in with such a filmmaker as Imamura Shohei (a raging satirist of Japanese morality and its collective social conscience). However, instead of bearing his teeth as he turns up his middle finger to inanities of war, he simply drives by, hair blowing in the wind and chuckles at notion of glory as men kill each other to prove some point or another.
Jesse B
Very serious for Suzuki. I wonder if it was in any way a response to Kobayshi's Human Condition trilogy, they seemed to share a lot of the same elements.
Martin Teller
as a war film it is extremely effective and entertaining. as a love story it falls short. as a blend of the two it is a good film that could have been better but is still worth seeing. sezuki's stylistic appraoch didnt work as well here as it has in other films, and the acting could have been better, but the film does well at grabbing the attention and telling an interesting japanese war story.
Shunpu den (Story of a Prostitute) Quotes
There are no approved quotes yet for this movie.
Discussion Forum
Discuss Shunpu den (Story of a Prostitute) on our Movie forum!