Story of Women (Une Affaire de Femmes)
(1989)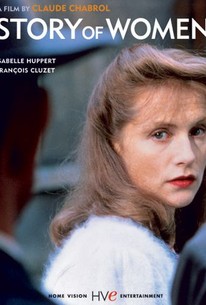 Story of Women (Une Affaire de Femmes) Photos
Movie Info
The women in this story are the customers of amateur abortionist Isabelle Huppert. The time is 1941, and the place is a Nazi-occupied French town. Struggling to survive, Huppert turns to illegally terminating unwanted pregnancies for a hefty fee. As her income increases, Huppert moves her family from their grimy surroundings to a posh apartment, sharing her digs with her new friend, prostitute Marie Trintignant. Completely seduced by her affluent lifestyle, Huppert ignores her shell-shocked husband Francois Cluzet, preferring to dally with Nazi collaborator Nils Tavernier. Things take a disastrous turn after one of Huppert's "customers" dies and her disgruntled husband turns her over to the authorities. Story of Women was inspired by the real-life tale of Marie-Louise Girard, who in 1943 was executed by the Vichy Government, who'd declared abortion as a Crime Against the State because it diminished the number of potential soldiers.
Critic Reviews for Story of Women (Une Affaire de Femmes)
Audience Reviews for Story of Women (Une Affaire de Femmes)
½
The Second World War continues to be a great source of film material and this is an important addition to that collection of film..albeit one that isn't overly compelling. A tiny conflict within a larger one.
John Ballantine
Super Reviewer
I admire Isabelle Huppert more and more as an actress with each film I see her in. Here she plays Marie Latour, one of the last women guillotined in France, for having performed illegal abortions. The subject is obviously a delicate one. Chabrol doesn't take sides though. The dark side of this woman is evident, she shows little or no concern for her clients and seemingly is only doing it to get as much money as possible out of it. But there is also a innocence to her, to do anything she can to provide the best for her children. Would make a great (though admittingly bleak) double feature with Vera Drake.
Story of Women (Une Affaire de Femmes) Quotes
There are no approved quotes yet for this movie.