Story of Women (Une Affaire de Femmes)
(1989)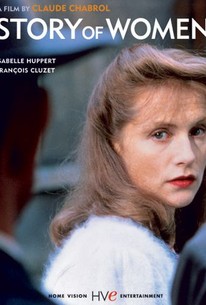 Story of Women (Une Affaire de Femmes) Videos
Story of Women (Une Affaire de Femmes) Photos
Movie Info
The women in this story are the customers of amateur abortionist Isabelle Huppert. The time is 1941, and the place is a Nazi-occupied French town. Struggling to survive, Huppert turns to illegally terminating unwanted pregnancies for a hefty fee. As her income increases, Huppert moves her family from their grimy surroundings to a posh apartment, sharing her digs with her new friend, prostitute Marie Trintignant. Completely seduced by her affluent lifestyle, Huppert ignores her shell-shocked husband Francois Cluzet, preferring to dally with Nazi collaborator Nils Tavernier. Things take a disastrous turn after one of Huppert's "customers" dies and her disgruntled husband turns her over to the authorities. Story of Women was inspired by the real-life tale of Marie-Louise Girard, who in 1943 was executed by the Vichy Government, who'd declared abortion as a Crime Against the State because it diminished the number of potential soldiers.
Critic Reviews for Story of Women (Une Affaire de Femmes)
Audience Reviews for Story of Women (Une Affaire de Femmes)
As this movie shows, if a woman has a duty to the state to deliver a baby that is a fascistic idea! You may condemn it morally but when you criminalize something you by definition transform into a crime against the state. And it strikes me odd that a lot of tea baggers who call a state fascistic for even attempting to reasonably regulate firearms or healthcare, insist that it sticks its nose into woman's vagina!
Serge C.
½
The Second World War continues to be a great source of film material and this is an important addition to that collection of film..albeit one that isn't overly compelling. A tiny conflict within a larger one.
John Ballantine
Super Reviewer
½
Isabelle Huppert is a great actress. If acting on the screen can be considered performance art, she is one of the many talented people who can prove it. She is passionate, lighthearted and gentle in her movements. Sometimes I lose my faith in screen acting and I tend to look at other things to attract me in a film. Isabelle's face is radiant, arresting, expressive, full with spectrum of emotions. Claude Chabrol is one of my favorite New Wave directors. Personally, I was jaded from all the popular stuff by Godard and what have you but Claude is totally a breath of fresh air. In this particular film, he has magnificently able to evoke the atmosphere and mood of 40's occupied France in the most impeccable fashion. It's not pretentious not excessive. The naturalistic light in combination with the costumes are simply magnificent yet modest. Chabrol understands women and I believe he has great taste in women's fashion.
Stefanos Tran
Story of Women (Une Affaire de Femmes) Quotes
There are no approved quotes yet for this movie.
Discussion Forum
Discuss Story of Women (Une Affaire de Femmes) on our Movie forum!