Storytelling
(2002)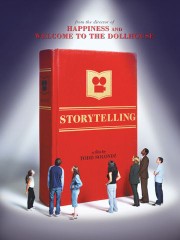 Tickets & Showtimes
Storytelling Trailers & Photos
Movie Info
Two stories set in two eras against the comical terrain of college and high school, past and present--exploring issues of sex, race, celebrity and exploitation. The first story: On a college campus in the mid-80s, a white female writing student has an emotional experience with her black, male writing teacher. The second story: In 2000, Toby Oxman is a 30-year-old wannabe celebrity and a documentary filmmaker. He sets out to document the Livingstons, an affluent suburban family raising three boys. The eldest is Scooby, a goofy, uninspired high school senior who aspires to be the next Conan O'Brien but whose parents are desperate for him to attend college in the fall. Brady, his 16-year-old brother, is the school's handsome and popular football star. When Brady is injured by another student during a football game, friends and family are forced to take stock of their values and re-evaluate their lives.
more
Rating:
R (for strong sexual content, language, and some drug use)
Genre:

Drama

,

Comedy

Directed By:

Todd Solondz

Written By:
Todd Solondz
In Theaters:
Feb 8, 2002 Limited
On DVD:
Jul 16, 2002
Box Office:
$0.9M
Runtime:
Cast
News & Interviews for Storytelling
Critic Reviews for Storytelling
Audience Reviews for Storytelling
Jim Hunter
Super Reviewer
½
The thing about Todd Solondz's "Storytelling" is that you can't simply just watch it as another, random film, because it's not just 'another random film.' You will have needed to have seen Solondz's previous work ("Welcome to the Dollhouse," "Happiness") and grasp the controversy and criticism surrounding him, for "Storytelling" is a meditation on Solondz's sensibilities. Solondz turns his script and lens back on the audience as well as himself. He is questioning both his admirers and his detractors. He is also questioning himself- why he is drawn to this material, why explore such darkness? "Storytelling" is a sort of subtlety brilliant piece of metafiction but it's not all entirely satisfying. These stories are just a tad bit trite, yet they still come with a considerable amount of good- namely the casting (Blair, Goodman, Giamatti, Webber) and Solondz's sharp dialogue and observations. I can't recommend this film to anyone other than fans of Todd Solondz's fascinating and unforgivably complex body of work.
Steven Carrier
Super Reviewer
½
Amazingly structured, beautifully shot, and brilliant, straightforward and honest dialogue. Storytelling is dark humored, luridly amusing and entertaining, and funny as hell in the demented sense. It's sharp, perversely genuine, witty and brutally forthright. Avoid the "R" rating at all cost and watch this in it's true form, RENT THE UNRATED VERSION!

"Fiction"
Vi is a hip college teenager who allows herself to be exploited and abused by any guy, including her writing professor, in order to get inspiration for her creative writing class.

- In my eyes, this story seems to me it would be more on the "Non-fiction" side. But you can be the judge.

"Non-fiction"
Toby Oxman is a hapless loser/shoe salesman who wants to be a famous documentary filmmaker. For his first project, Toby explores the dysfunctional Livingston family, focusing mostly on the oldest son Scooby, an alienated, hates-the-world, ticking-time-bomb, bisexual, high school student with dreams of being famous.

- Strange how this story is "Non-fiction", but hell, I love it's eccentricity. Just makes the movie more intriguing.

Storytelling is disturbing, but it's always fun! Coming from the guy who directed "Welcome to the Dollhouse" you should already know what kind of material to expect. Todd Solondz is a great director, always with a strange and twisted, but interesting outlook on life. He's an amazing artist.

I highly recommend Storytelling.


"A masterful comedy that will divide audiences, but it left me laughing hysterically. I hope that doesn't make you think I'm a sick bastard, but if so, piss off."
- Film Threat

"I saw it a third time. By then I had moved beyond the immediate shock of the material and was able to focus on what a well-made film it was; how concisely Solondz gets the effects he's after."
- Roger Ebert

"Solondz has finally made a movie that isn't just offensive -- it also happens to be good. He's still shouting, still violating our politically correct sensibilities, but the shocks now have thematic purpose. They don't just titillate, they resonate."
- The Globe and Mail

"The leanest and meanest of Solondz's misanthropic comedies, feasts on the anguish of adolescence and confusion of college -- white suburban-style."
- Village Voice

"Almost as uncompromising, and sometimes as funny, as "Dollhouse" or "Happiness.""
- Chicago Tribune

"It's extremely well played and often very funny. But beware: Solondz uses humor as a booby trap, so be careful what you laugh at."
- TV Guide

"A movie that advances the career of a demonstrably gifted filmmaker, a fearlessly funny movie whose laughs draw blood, a bracingly provocative movie that won't apologize for its bad temper."
- Rolling Stone
jd cryptic
Super Reviewer
Storytelling Quotes
Mr. Gary Scott: I don't know about what happened, because once you start writing, it all becomes fiction.
Discussion Forum
Discuss Storytelling on our Movie forum!
News & Features