Straight Time
(1978)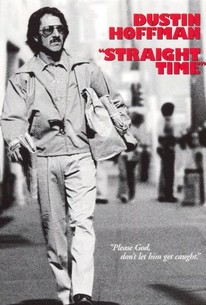 Movie Info
Paroled criminal Max Dembo is compelled to withstand the calculated cruelties of parole officer Earl Frank. The more Max tries to go straight, the more he is defeated by circumstance. It eventually becomes clear that neither Hoffman nor his fellow ex-cons will be able to survive looking for legitimate work.
Critic Reviews for Straight Time
All Critics (6) | Top Critics (1) | Fresh (5) | Rotten (1) | DVD (3)
There are authentic, gripping elements in the firm. An overwhelming starring performance could have unified those elements emotionally.
Dustin Hoffman finally gave the unquestionably great performance everyone had been expecting from him. Unfortunately, few people saw it.
Straight Time packs a punch--thanks to the intense and well-modulated performance by Dustin Hoffman.
Audience Reviews for Straight Time
Based on a novel by Edward Bunker, Straight Time is possibly one of the most realistic cinematic probes into the sociopathic psyche of the career criminal. Great cast, strong script and solid direction by Ulu Grosbard. Not for a moment are you allowed to suspect that hoodlums might be smart or attractive, or that crime pays. Thanks to mjgildea for recommending this, it may have stayed under the radar much longer.
El Hombre Invisible
Super Reviewer
I watch a lot of movies and most of them are decent. A lot of the time I've got to convince myself that I didn't just waste a couple hours of my time or I'll have to dig for reasons as to why I liked a particular movie but whatever. But I'll endure long stretches of mediocrity because I know there are movies like Straight Time out there. I know there are obscure and unheard of gems that for one reason or another have been forgotten. This isn't to say Straight Time is a perfect movie. David Shire's hokey and dated score and a slow buildup work against it but this is easily one of Dustin Hoffman's best performances and the rest of the cast is nothing short of brilliant. Once Hoffman's character makes his choice to go back to a life of crime after the first hour, the story just creeps and creeps on you and doesn't let up. Written by Eddie Bunker (Mr. Blue from Reservoir Dogs), who spent much of his life in prison, this movie also gives what I'm guessing is a pretty accurate and definitely gritty portrayal of an ex-con's life. By the time it's over all you can do is as yourself why the hell you haven't seen it before or why Straight Time isn't as celebrated as it should be.
Michael Gildea
Super Reviewer
A hidden jewel that shows 70s gritty and raw cinematic power. Perfect Hoffman characterization of Max Dembo, a man who sees crime as the main engine of his existence.
Pierluigi Puccini
Super Reviewer
Straight Time Quotes
There are no approved quotes yet for this movie.
Discussion Forum
Discuss Straight Time on our Movie forum!