Straight to Hell
(1987)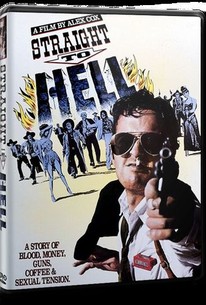 Movie Info
Not a sequel to director Alex Cox's quirky 1987 spaghetti western homage but instead a new version of the film featuring additional footage cut from the original release, a new color scheme, and some gruesome new digital effects, Straight to Hell Returns offers a cruel new vision of a quirky cult classic. In their exhausted bid to catch up on some sleep, black-suited hit men Norwood (Sy Richardson), Sims (Joe Strummer) and Willy (Dick Rude) miss their target, and realize their there will be hell to pay when the news gets back to their malevolent boss, Mr. Dade (Jim Jarmusch). With Norwood's pregnant bride Velma (Courtney Love) in tow, the three killers knock over a bank for some quick cash, and hightail it into the desert. But their bad luck takes a turn for the worse when their car suddenly dies, forcing them to bury the loot, and seek refuge in a dusty desert town. The following morning, the McMahon clan (The Pogues) rides into town and confronts the gang, though a bloodbath is narrowly averted when the three new arrivals gun down Rusty Zimmerman (Ed Tudor-Pole) as he attempts to arrest two key members of the clan. As a result, Norwood, Sims, and Willy earn the trust of the clan's leader Frank (Biff Yeager), and over the course of the next few days everyone rests easy while Sims and Willy romance a pair of pretty locals. But the shaky truce crumbles following a shocking act of violence among the McMahon's. Subsequently outfitted with an impressive array of weaponry thanks to mysterious arms dealer Mr. Fabien (Dennis Hopper), the killers prepare for battle as Mr. Dade arrives in town offering a handsome bounty for the heads of his three missing henchmen, and all hell breaks loose. ~ Jason Buchanan, Rovi
Rating:
R
Genre:
, , ,
Directed By:
Written By:
In Theaters:
On DVD:
Runtime:
Studio:
Critic Reviews for Straight to Hell
Audience Reviews for Straight to Hell
½
Not as spaghetti Western as the trailer (and many critics) make it out to be, unless you count Jorodowsky's El Topo as spaghetti western. Also not very good, but I find myself coming back to it, like once a decade. I hear there's a remix or something made with out-takes. May have to take a look.
George Isaacs
Really low budget, really flat performances and really uninteresting. How can a movie with some luminary musicians (mostly past their prime.. but still!) be so tiresome? The plot seems mostly irrelevant and the characters randomly disjointed in looks and personalities. I really couldn't figure out the point. For a 2010 re-release the film looked like early 80's VHS and the image is gritty and distractingly low quality. Maybe there was nothing left to improve on but still I can't believe that was the best transfer possible.
Mark Nash
If I can't say anything else good about this film I can say that it is a boldly strange trip.
Graham Jones
Super Reviewer
Straight to Hell Quotes
There are no approved quotes yet for this movie.