Stranded
(2013)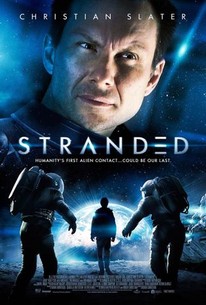 Movie Info
When the isolated U.S. military moonbase is bombarded by a rogue meteor storm, Colonel Gerard Brauchman (Christian Slater) and his small crew are cut off from Earth with their life support failing. Before long, the crew discovers the meteors harbored alien spores...and they're replicating. Now a vicious, shape-shifting predatory life form is loose inside the crippled facility, picking off victims one by one. Locked in a desperate fight for survival, Brauchman and the terrified remaining astronauts have one final mission...keep the creature from escaping the moon and finding a new food supply on Earth. (c) RLJ Entertainment
News & Interviews for Stranded
Critic Reviews for Stranded
Audience Reviews for Stranded
½
Derivative tripe, Stranded is a piece of garbage that's not even fit to air on the SyFy Channel. The acting is terrible and the sets look like they came from a cheap model kit. Additionally, the plot's little more than a bad knock-off of Alien. It's pathetic crap like this that gives sci-fi a bad name.
Dann Michalski
Super Reviewer
½
It's hard to find a great film that doesn't put its protagonist(s) up against a sufficient threat (be it physical or mental), and, until seeing 'Stranded' I didn't think it would be so easy to make what is initially a plausible danger into somewhat of a laughing stock. Granted I don't love the film; but imagine you are halfway through 'John Carpenter's Thing' (Just far enough so you know what you're dealing with) and suddenly, out of nowhere, one of the parasitic life forms starts running on a treadmill with a cheesy grin on its face, sounds pretty dumb, right? Well, believe it or not, that's the moment I knew 'Stranded' was a mostly lost cause, I don't want to see an alien hitting the treadmill for a jog, I want to see it destroying people's faces. As tempting as it is to point out all the dumb alien antics (look out for vacuum switchero moment) I can't deny that there were some positive aspects to the film; some of the visuals were pretty nice, and I appreciate the heavy use of practical effects, Slater does the best with what he's got (although everyone else doesn't), and, for about 25 minutes things are pretty exciting. Perhaps if the alien threat was postponed, maybe even eliminated things would of turned out a bit better. I can only wish that alien didn't go for a jog.
Cameron Sherwell
Super Reviewer
Discussion Forum
Discuss Stranded on our Movie forum!