Stranded
(2013)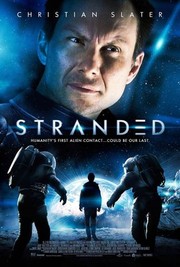 Tickets & Showtimes
Stranded Trailers & Photos
Movie Info
When the isolated U.S. military moonbase is bombarded by a rogue meteor storm, Colonel Gerard Brauchman (Christian Slater) and his small crew are cut off from Earth with their life support failing. Before long, the crew discovers the meteors harbored alien spores...and they're replicating. Now a vicious, shape-shifting predatory life form is loose inside the crippled facility, picking off victims one by one. Locked in a desperate fight for survival, Brauchman and the terrified remaining astronauts have one final mission...keep the creature from escaping the moon and finding a new food supply on Earth. (c) RLJ Entertainment
more
News & Interviews for Stranded
Critic Reviews for Stranded
Audience Reviews for Stranded
½
Derivative tripe, Stranded is a piece of garbage that's not even fit to air on the SyFy Channel. The acting is terrible and the sets look like they came from a cheap model kit. Additionally, the plot's little more than a bad knock-off of Alien. It's pathetic crap like this that gives sci-fi a bad name.
Astronauts are some of the most intelligent people in the history of human civilization who are psychologically screened and trained incredibly well to foresee and competently handle a variety of possible crises and disasters. Of course when something like the International Space Station costs over $100 Billion, you'd need to make damn sure it's in good hands.

So you can quickly spot shitty sci-fi when all the astronauts are complete bumblings idiots and emotional unstable dramawhores who catastrophically fumble the most simple and basic of tasks.

Yep. This is another one of those. And it delivers garbage writing in spades. Avoid at all costs.
Stranded Quotes
Colonel Gerard Brauchman: We dont strand a chance against the alien vampire army.
Discussion Forum
Discuss Stranded on our Movie forum!
News & Features