Kimyô na sâkasu (Strange Circus)
(2005)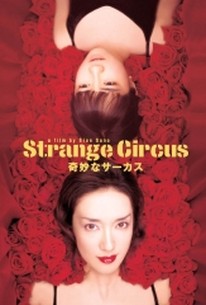 AUDIENCE SCORE
Critic Consensus: No consensus yet.
Kimyô na sâkasu (Strange Circus) Photos
Movie Info
From the director of the cult hit Suicide Club comes an unsettling look at the life of a sexually-abused adolescent whose inability to distinguish her mother's pleasure from her own pain sends her down a dark and surreal path. Sexually molested by her father Gozu (Hiroshi Oguchi) and mentally tormented by her jealous mother Sayuri (Masumi Miyazaki), twelve-year old Mitsuko (Rie Kuwana) is locked in a cello case and forced to watch her parents perform a series of intimate acts. When Mitsuko's mother dies as the result of a fatal fall, the deeply disturbed young girl begins to believe that she has, in fact, been transformed into her own mother. Her father viewing the death of his wife and mental malaise of his daughter as a motivator to ramp up the incestuous relations with his increasingly unhinged offspring, Mitsuko eventually ends up restricted to a wheelchair following a failed suicide attempt. Later, it begins to appear that the preceding events were nothing more than the details of a new novel by reclusive, wheelchair-bound author Taeko (also Miyazaki). When Taeko's trusted editor places his fey personal assistant Yuji (Issei Ishida) in charge of the successful writer, the probing Yuji launches a clandestine investigation into Taeko's background while simultaneously being forced to satisfy her deepest and darkest fantasies. ~ Jason Buchanan, Rovi
Critic Reviews for Kimyô na sâkasu (Strange Circus)
All Critics (2) | Fresh (2) | Rotten (0) | DVD (1)
This unforgettable Grand Guignol of an entertainment, chronicles a school principal's incestuous relationship with his twelve-year-old daughter, whom he sometimes encases in a cello case with peepholes, so she can watch him making love to her mother.
How often can you say that a psychological thriller is as intriguing as it is titillating?
Audience Reviews for Kimyô na sâkasu (Strange Circus)
½
To say this film is strange is a severe understatement. I suppose that calling the film Mindfuck City wasn't really friendly, as far as marketing goes. You know, I don't even know how to begin to describe this film. It's just something that you'll have to see for yourself to figure it out on your own. The film deals with a 12-year old girl who has been sexually abused by her father, and also been forced to watch her parents having sex while locked inside a cello case. The girl's mind becomes increasingly more unhinged after her mother dies after a fall, and she believes she has become her mother. Of course, since the movie is as surreal as it is, it's clear that nothing is the way it seems and it leads to a twist that, in any other film, would've been absurd and ridiculous. In this film, since everything is so surreal, the twist is actually quite good and it makes the film even more surreal. The film is ripe with symbolism as well, and I think Sion Sono does a great job at making this film interesting to watch even if you're not sure what the hell is going on most of the time. This is the type of film that I think I could very easily have hated but, for some reason, I didn't. I can only imagine if this film had been an hour longer, like Noriko's Dinner Table, and how that would've been unbearable, again, like Noriko's. Thankfully the film shows, as far as length goes, a more restrained Sion Sono, since the content of the film isn't restrained at all. I realize this is a shitty review, but I don't have the "skills" to write a decent review of such a mindfuck of a film. I just know that I liked it but I would probably never watch it again, as I just think it's the kind of film that works, at getting a reaction out of people, the first time you see it when the experience is, to use a lame term, "pure". Anyway, I wouldn't recommend this to just anybody but I did like it.
Jesse Ortega
Super Reviewer
½
Another amazing film from Sion Sono.  I still need to see Hazard and Noriko?s Dinner Table, but from what I?ve seen, Sono has recently shot up my list of favourite working directors.
Christopher Brown
Super Reviewer
½
In the style of his previous effort, Suicide Circle, Sion Sono deals with a difficult and dark subject in a horrific and slightly perverse way. He handles the scenes of child abuse with a twisted sense of genius. Our protagonist says how when she is abused she "becomes" her mother. In the visual medium of film, this literally happens. Although this makes it possible for us to endure, the performances never allow us to forget who the character is meant to be. The plot soon starts to become even more twisted as it is not clear what is real, what is part of a novel and so on. There are dream sequences, memories and prose all tangling together to make a very unique narrative. At the end it all goes a bit too far and is bogged down by excessive exposition (I didn't need the dialogue, the unbuttoning of the shirt was enough to put the pieces together). The music is also fantastic, bridging the gap between Fargo's magnificent theme and the music of Amelie. It's certainly a difficult watch, but a rewarding one.
Luke Baldock
Super Reviewer
Kimyô na sâkasu (Strange Circus) Quotes
There are no approved quotes yet for this movie.