The Strange Door
(1951)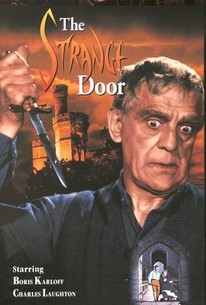 AUDIENCE SCORE
Critic Consensus: No consensus yet.
Movie Info
Based on a story by Robert Louis Stevenson, this 17th Century set chiller features Charles Laughton as a callous French nobleman whose desire for a young woman leads to betrayal and murder.
Rating:
NR
Genre:
Directed By:
Written By:
In Theaters:
On DVD:
Runtime:
Studio:
Universal
Critic Reviews for The Strange Door
There are no critic reviews yet for The Strange Door. Keep checking Rotten Tomatoes for updates!
Audience Reviews for The Strange Door
An evil, demented nobleman (Laughton) sets about forcing the basest rogue he can find (Stapley) to marry his innocent young niece (Forrest) as the culmination of a 20-year revenge plot against his brother. But he has misjudged the true character of the intended brides groom, and the young man soon teams up with one of the servants (Karloff) to secure the girl's safety and freedom. [center][img]http://www.geocities.com/nuelow/movstrangedoor2.jpg[/img] [i]Sally Forrest, Boris Karloff and Michael Pate in a publicity still for "The Strange Door"[/i] [/center] This Univesal Studios production has the tone and feel of the gothic horror flicks that Hammer Films would start doing so well throughout the late 1950s and throughout the 1960s. It compares favorably to Hammer's lesser efforts, but it is pales in comparison to Hammer's greatest gothic chillers, or even movies starring Charles Laughton in similar roles (such as the 1930s Hitchcock film "Jamacia Inn"). Speaking of Laughton, he is the most outstanding member of a cast that gives performances that bring to mind an excellently mounted stage performance. Usually, when I say that the actors in a film come across like they are performing in a theater, I mean it negatively; not so here. For the most part, the performances are of a style that the world "melodrama" was created to describe and they they bring this story and its characters to a sort of life that more restrained performances would have failed to do. Only Richard Stapley is a bit much, with delivery that clearly signals he is the Hero of the piece but that is so extreme that he comes across like a Dudley Doright charicature rather than a character--it's too much of a good thing. But this is Laughton's movie in every sense. He steals every scene he is in, and he even manages to infuse a tiny bit of sympathetic humanity into a truly monstrous character. (We start out feeling that there's somethinng wrong and creepy about Sire Alain de Maletroit, and we come to be repulsed by him, yet Laughton still manages to shade his performance just enough to mae the audience feel a twinge of hope that he may yet redeem himself before it's too late for everyone. It's an excellent performance. Boris Karloff makes his usual solid contribution to the film, but he doesn't have much to do except to serve as a dark comic relief and the guy who may or may not save the day in the end. (Although, frankly, given the nature of the story, there's never any real doubt as to how it's going to turn out.) "The Strange Door" is one of five obscure movies that Karloff made for Universal during the 30s, 40s, and '50s that are included in "The Boris Karloff Collection." While none of the films will ever be ranked among the great cinematic works of all time, they're decent enough and well worth a look by lovers of old-time movies. [URL=http://www.amazon.com/gp/product/B000FWHW8Q?ie=UTF8&tag=stevemillesdo-20&linkCode=as2&camp=1789&creative=9325&creativeASIN=B000FWHW8Q]Click here to read more about the set at Amazon.com, or to purchase it at a discount.[/URL]. The Strange Door Starring: Charles Laughton, Richard Stapley, Sally Forrest, William Cottrell Boris Karloff and Michael Pate Director: Joseph Pevney
Steve Miller
5.5/10. Disappointing, considering the cast, but it's watchable, Charles Laughton is always worth a look. It has good atmosphere but the story lacks spark.
James Higgins
The Strange Door Quotes
There are no approved quotes yet for this movie.