Strange Frame: Love & Sax
(2012)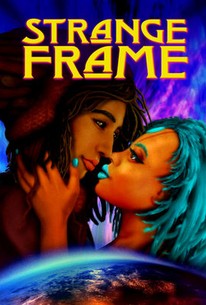 AUDIENCE SCORE
Critic Consensus: No consensus yet.
Strange Frame: Love & Sax Photos
Movie Info
Two freedom-fighting lesbian musicians living on one of Jupiter's moons wage a valiant fight against the oppressive powers that be in this animated sci-fi musical set in the 28th Century, when humankind has fled planet Earth to make their home amongst the stars. Featuring the voices of Tim Curry, Michael Dorn, and George Takai.
Critic Reviews for Strange Frame: Love & Sax
All Critics (1) | Fresh (1) | Rotten (0) | DVD (1)
An undeniably stylish and ambitious animated sci-fi film. The character animation is colorful but stiff and video game-like, which can be irritating, while the environments and backgrounds are often stunning.
Audience Reviews for Strange Frame: Love & Sax
I wanted to see this one, but was pretty disappointed. It didn't flow like a movie should. It was a series of music videos that were not amazing. The style of the animation was neat. (Think flash animations in the early 2000s). The movie needed to be a little more congruent and have a bit more substance.
John Trifiletti
One line summary: Lush voices, fine music, good story, hideous visuals. ------------------------------------- Naia is a singer, Parker a saxophone player. They made good music together until they encountered Dorlan Mig, who drugged both of them. He threw out Parker, and denied her access to Naia. Parker barely manages to keep her best saxophones. She eventually meets Grenman, the all-around fixit man on a space ship. This gives her a safe home and friends. However, the ship's onboard AI is going psycho, and is sabotaging the ship. It's the late 28th century, and humanity lives mostly off Earth: Mars, the Jovian satellites, large asteroids, and places further out, rather like in Cowboy Bebop. There is a war among the various planets, satellites, space stations, and asteroids. AI and robotics are enormously further along than on 21st century Earth. Parker sells one of her saxes to help pay the bills on Grenman's ship. She investigates her former band. She takes the bass of the player Atem, who abandoned it and his clothes. Parker promises to give the bass to Atem if she finds him. She meets Chat, another band member, and tries to figure what Dorlan did with Naia. She attends one of Naia's current shows, takes recordings, feels the singing with her singer's sense.. Parker becomes quarter owner of the ship, and the crew sets about to help her to kidnap the 'fake' Naia. Will Parker succeed in rescuing the real Naia? Will the captain succeed in regaining complete control of his ship from the AI? Will Dorlan get his just reward? -------Scores--------- Art: 4/10 Terrible. Ugly. An assault on the eyes. A festival of hideous images. Sound: 10/10 Voices and incidental music were fine. Voicing: 10/10 Claudia Black was brilliant, Ron Glass excellent. Screenplay: 10/10 A touching and inventive story set in the Cowboy Bebop like future environment.
Ed Collins
½
This animated, sci-fi, musical, love story is set in the 28th Century. Most of the action seems to happen in Ganymede City located on Ganymede. It follows the story of two women who meet and fall in love. One becomes a pop super star while the other remains a poor jazz musician. With the help of a couple of friends they fight the powers that be. There is much visual imagery accompanied by music. The best word for this movie is 'Trippie.'
Brandon Stocks
Strange Frame: Love & Sax Quotes
| | |
| --- | --- |
| Parker: | I'm sketchy about the escape plan from here. Grenman said don't worry, Reesa and Bitsea will jam the navigations of anyone who follows us. Of course, plan is a four letter word. |
| | |
| --- | --- |
| Naia: | Navigation of crowd gyration is my specialization! |
Discussion Forum
Discuss Strange Frame: Love & Sax on our Movie forum!