The Strange One
(1957)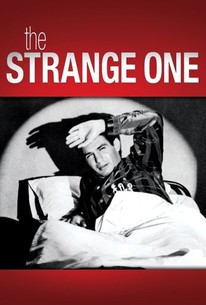 AUDIENCE SCORE
Critic Consensus: No consensus yet.
Movie Info
In his film debut, Ben Gazzara repeats his stage portrayal of Jocko De Paris, a manipulative psychotic who holds a Southern military school in thrall. With the help of his flunkies, cadets Harold Knoble (Pat Hingle) and Roger Gatt (James Olson), Jocko sadistically terrorizes the underclassmen, forcing them to do his bidding. Efforts made by Major Avery (Larry Gates) to expose Jocko are constantly thwarted by the students' conspiracy of silence and by Jocko's own efforts to destroy Avery. Finally, cadet Robert Marquales (George Peppard, likewise making his first film appearance) can stand no more: turning the tables on Jocko, Marquales reveals the monster for the snivveling coward he really is. This filmization of Calder Willingham's play and novel End as a Man almost didn't make it to the screen due to its pronounced homosexual subtext. The filmmakers managed to circumvent the censors by removing three minutes of allegedly offensive footage, and by making the film's most overtly gay character a slimy, repulsive creep (another implicitly homosexual character, played by Arthur Storch, is depicted as merely wimpish and withdrawn). As a box-office come-on, Calder Willingham added the superfluous character of good-time gal Rosebud (Julie Wilson).
Rating:
NR
Genre:
,
Directed By:
Written By:
In Theaters:
On DVD:
Runtime:
Studio:
Sony Pictures Entertainment
Critic Reviews for The Strange One
All Critics (2) | Fresh (0) | Rotten (2) | DVD (1)

Though the homosexual subtext was daring for the 1950s, the film is much softer than the play.

Ozus' World Movie Reviews
Audience Reviews for The Strange One
½
The Strange One is set in a military academy. It's a pretty safe bet that any movie set in a military academy is going to feature a lot of sadism and cruelty, with a rich dollop of homosexual overtones. The Strange One delivers this in spades. This is another movie that I'm a little surprised isn't a bigger cult hit because of the eccentric performances and the subversive subtexts. It's the first of two movies directed by Jack Garfein, who gave every indication of being another in a long string of first-rate film directors to come out of the Actors Studio. He met disfavor in Hollywood when he bucked interference from his producers; Ben Gazzara, who stars in the movie, believes that Sam Spiegel, the movie's producer, purposely tanked the movie with poor promotion and distribution because of his animus for Garfein. Garfein spent the rest of his productive career (he's still alive, by the way) as a highly regarded stage director and acting teacher. This movie is based on a stage play called End As a Man, which was adapted from Calder Willingham's novel of the same name. It was successfully produced on Broadway, and most of the actors from the play perform in the movie. It was among the first movies for most of the company, and many of them had enduring careers - Ben Gazzara, Pat Hingle, George Peppard and an almost unrecognizable James Olson. There are some similarities between this movie and Billy Budd, which I had seen just the night before. Both feature sociopathic sadists in positions of power. The authorities above him recognize his evil, but are unable to bring him to justice. In Billy Budd, the sociopath is brought down by a Christ-like character. In The Strange One, true to its socialist-leaning Actors Studio roots, the sociopath is brought down by the collective, moved to do the right thing by a fundamental sense of justice. These two movies would make a terrific double-feature. This is a fascinating movie, both historically and on its own merits. See it if you get a chance.
The Strange One Quotes
There are no approved quotes yet for this movie.