Strangers When We Meet
(1960)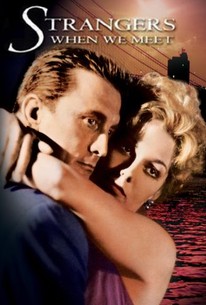 AUDIENCE SCORE
Critic Consensus: No consensus yet.
Strangers When We Meet Photos
Movie Info
Featuring an all-star cast and excellent production values, this sudsy melodrama centers upon the tangled webs woven by a philandering architect and his mistress, who is also his next door neighbor.
Rating:
NR
Genre:
,
Directed By:
Written By:
In Theaters:
On DVD:
Runtime:
Studio:
Columbia Pictures
Audience Reviews for Strangers When We Meet
I found this drama to be quite dull. The majority of it is spent with the actors sitting around talking, smoking, drinking, and talking some more. It has all the usual plot devices of an affair drama, no surprises or anything. It's not bad, though. I wouldn't say this movie was worse than any other movies like it. It's just not good either.
½
the paradox within the cultural temperament of 1960s america is the juxtaposition of sexual liberation (free love among the youth) and the height of bourgeois suburban dream, the co-existence of radical activism and the conservative reactionary. thus "strangers when we meet" is the mediocre lukewarm product moulded by such social atmosphere. on the one hand, it encourages emancipation for married woman to re-vitalize her confidence meanwhile it also dubs moralistic pedogogy that marriage is a commitment which should not be nullfied. kim novak plays a housewife with a wooden un-passionate husand who demands her to put her clothes on in order to appear decent in their own house (come on, your wife is kim novak, wouldn't you supposedly be more passionate to such voluptuous woman?) thus she finds herself suffocated in a lifeless marriage, and she seeks solace from her neighbor, who happens also to be married, who also finds his wife quite insensitive to his passions of life, frustrated by the lack of mental connections and spiritua)l communications. in one scene, novak without bra, in a scarlett (flesh-red dress requests the man to kiss in a hissing exclamation as if she's sensually requesting for orgasm as you could clearly see the tempting shape of her naked bossom. the ending is that the woman just bids farewell to the man graciously without making a fuss about his sudden decision to depart and leave her in a loveless marriage. it's like saying: we have had a great fun together, and eventually i will return home to be a good little wife and you could easily take off. ok, perhaps i ideologize everything, it feels like a patronization of hugh hefner-esque chauvinism. yes, free love is only doable under the premise that woman is the man's plaything without any actual romantic consequence. (and woman, you're on your own, since i'm gonna help you.) BUT, how could you do except just letting him go? strangers when we meet, still strangers after you put your pants back on! quite a roller-coaster ride of free love without paying the ticket fair, isn't it?
Gustave Kwak
½
July 2010 - This is a very well developed family drama. The characters are quite attractive even though I don't think they are explained very well. K Douglas is always somewhere between a deceiving unfaithful husband and a true artist in love. On the other hand K Novak looks psychologically troubled and the only explanation for her strange behavior seems to be sexual deprivation. Other characters are rather shallow. But overall visually the movie is appealing and I liked the ending.
Hossein N
Strangers When We Meet Quotes
There are no approved quotes yet for this movie.
Discussion Forum
Discuss Strangers When We Meet on our Movie forum!