The Street Fighter
(1974)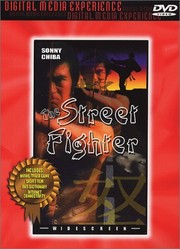 AUDIENCE SCORE
Critic Consensus: No consensus yet.
Movie Info
While most martial arts films focus mainly on showing the moves, strikes and blows of the combatants, they don't show the logical consequences of these battles in any detail. The Streetfighter does, and it won an "X" rating for violence when it was released to the U.S. in 1975. This cult film and its three sequels are thought to be particular favorites of American director Quentin Tarantino. Sonny Chiba stars as Terry, a mercenary hired by the Yakuza and Mafia to kidnap a wealthy heiress. The mobs refuse to pay his large fee for the job, and he immediately changes sides. Much of the violent and gory action takes place aboard an oil tanker; though injured, Terry still takes out at least half of his many opponents. ~ Clarke Fountain, Rovi
more
Watch it now
Cast
News & Interviews for The Street Fighter
Critic Reviews for The Street Fighter
Audience Reviews for The Street Fighter
½
A mercenary (presumably at one time in the past a street fighter) tries to protect an heiress while being hunted ny the yakuza and the man whose sister he sold into sex slavery. Sonny Chiba is a badass (and frankly more than a little bit of a dick) and the film gets some violent style points, but aside from its silly brutality it's nowhere near as special as its reputation suggests.
½
Superb action film that is superior to all recent efforts. The Street Fighter is everything you should love about the genre. In fact, it does so much right, it should be used as a template for any film wishing to achieve such levels of excitement and brutality. The first thing to grab my attention was the lead protagonist. He isn't exactly a nice guy. Far from it. He's a mercenary for hire, and not the lovable rogue like Han Solo. He is sadistic and cruel and self serving. However, Chiba manages to instill such charisma that I was drawn to the performance. As the film progressed, so did Chiba. His actions became more heroic, even if his methods could still make me cringe. The action scenes are those I long to return. This isn't some "exciting" frenetic exercise in editing. The action derives from the actors and the stunts. The camera is following what is going on, and heavy editing is not needed. There are some stylistic flourishes which add extra cool, but not so much as to detract from the emotions of the characters. Some parts are a little convoluted, but the balance between story, dialog, and action is beautifully thought out. It's all helped along by a very 70's and very sexy soundtrack.
Discussion Forum
Discuss The Street Fighter on our Movie forum!
News & Features