Streetfight
(1975)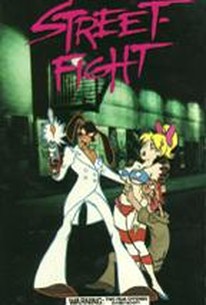 AUDIENCE SCORE
Critic Consensus: No consensus yet.
Movie Info
Adult animation pioneer Ralph Bakshi's third film is an intensely gritty mixture of cartoon and live action modeled after Disney's SONG OF THE SOUTH, a 1946 film long shelved by Disney because of its racist stereotypes. In this over-the-top update, the racist stereotypes are part of the point as convict Pappy (Scatman Crothers) relates the adventures of drug-dealing Brother Rabbit (Philip Michael Thomas) to his cellmate as they plot and execute a prison break. Along with his pals Brother Fox (Charles Gordone) and Brother Bear (soul singer Barry White), the badass rabbit tangles with rival gangs, crooked cops, revolutionaries, and phony preachers in an effort to rule the streets. Brother Rabbit uses lots of forefather Br'er Rabbit's tricks, such as the infamous tar baby, and of course indulges in plenty of patented Bakshi violence. As a foul-mouthed, raunchy send-up of black stereotypes and a brutally honest depiction of impoverished urban existence, this bleak but funny film is still daring and thought provoking today, splashing merrily in currents too dangerous and deep for most contemporary films about race relations to tread. Jazz great Chico Hamilton provides the score.
Rating:
R
Genre:
Directed By:
Runtime:
Audience Reviews for Streetfight
½
by Dane Youssef "DON'T LET THE TITLE THROW YOU. THIS IS ONE TO SEE." "Coonskin," (later re-christened "STREETFIGHT") by Ralph Bakshi is film, by the one and only Ralph Bakshi, is reportedly a satirical indictment of blaxploitation films and negative black stereotypes, as well as a look at life black in modern America (modern for the day, I mean--1975). Paramount dropped it like a hot potato that just burst into flame. But this is a Bakshi film, controversial, thrilling, and a must-see almost by definition alone. Not just another random "shock-jock" of a movie which tries to shock for the sake of shock. It's by Ralph Bakshi. Anyone who knows the name knows that if HE made a movie, he has something big to say... Although it's roots are based in cheap blaxploitation, "Coonskin" isn't just another campy knock-off of mainstream white film or any kind of throwaway flick. "Coonskin" wants to be more. It aims it's sights higher and fries some much bigger fish. The movie doesn't just poke fun at the genre. Nor does it just indict black people, but actually seems to show love, beauty and heart in the strangest places. "Coonskin" tells a story out of some convicts awaiting a jail-break. The fact that it's even possible to break out of a prison in the "Coonskin" world alone makes it old-fashioned. One of the inmates tells a story about a trio of black brothers in Harlem named Brother Bear, Brother Rabbit, Preacher Fox who want respect and a piece of the action and are willing to get it by any means necessary. The Italian mob is running all the real action. Big name black musicians star: Barry White and Scatman Crothers, as well as Charles Gordone, the first black playwright to take home the Pulitzer. Something big is happening here obviously. The movie plays out like a descent into this world, this side of the racial divide. From an angry, hip, deep, soulful black man with a hate in his heart and a gun in his hand. Bakshi's films never know the meaning of the word "subtlety." This one looks like it's never even heard of the word. But maybe a subject like this needs extremism. Real sledgehammer satire. Some subjects can't be tackled gently. Bakshi is god dammed merciless. Here, no member or minority of the Harlem scene appears unscathed. The characters here are "animated" to "real" all depending on what the mood and situation are. The animated characters and the human ones all share the same reality and are meant to be taken just as literally. Bakshi never just shows ugly caricatures just for shock value. He always has something to say. Nor is blackface is gratuitously. Here, unlike in Spike Lee's "Bamboozled," he seems to be using it to try and really say something. Like 99.9% of all of Bakshi's films, this one incorporates animation and live-action. Usually at the same time. Bakshki isn't just being gimmicky here. All of this technique is all intertwined, meshing together while saying something. Somehow, this one feels inevitably dated. Many of these types of films (Bakshi's included) are very topical, very spur of the moment. They reflect the certain trend for the day, but looking back of them years later, there's just an unmistakable feeling of nostalgia (as well as timeless truth). Even though the music, clothes, slang and the city clearly looks like photos that belong in a time capsule, the attitude, the spirit and the heart remain the same no matter what damn era it is. Anyone who's really seen the movies, the state of things and has been in company of the people know what I'm talking about. Even some of the of the black characters are a bunny (junglebunny), a big ol' bear and a fox. One of the most sour and unsavory racist characters is a dirty Harlem cop who's hot on the trail of these "dirty niggers" after the death of a cop. But for him, it's not just business. Nor is it for the rest of the brothers who wear the shield. It's just pure sadistic racist pleasure of hurting blacks. The sequence involving the Godfather and his lady is one of the most moving pieces in the whole film, of which there are many. It plays out like an opera or a ballet. The promo line: WARNING: "This film offends everybody!" This is not just hype. Proceed with extreme caution. You have been warned... --Loving the fine street art of Bakshi, as well as a "good streetfight, " Dane Youssef danessf@yahoo.com http://profile.myspace.com/index.cfm?fuseaction=user.viewprofile&friendid=58175682 http://www.google.com/profiles/youssef.daneyoussefcom.dane http://www.amazon.com/gp/cdp/member-reviews/ASKUZHOKQ1W3E/ref=cm_pdp_rev_title_1?ie=UTF8&sort_by=MostRecentReview#R2MFYILVVRXX73 http://www.imdb.com/user/ur2718160/comments-expanded?start=0&order=alpha http://wiki.answers.com/Q/User:DANE_YOUSSEF http://www.epinions.com/user-surfur http://en.wikipedia.org/wiki/User:DANE_YOUSSEF http://en.wikipedia.org/wiki/User:SURFUR http://uncyclopedia.wikia.com/wiki/User:DANEYOUSSEF http://www.movieweb.com/u/dane_youssef/reviews http://www.youtube.com/SURFUR http://www.youtube.com/user/DaneYoussef?feature=mhum http://hairmetal.ning.com/profile/DaneYoussef?xg_source=activity http://www.flickr.com/people/46939743@N07/ http://twitter.com/Dane_Youssef http://www.neoseeker.com/members/daneyoussef/
Dane Youssef
Remember Ralph Bakshi? The guy that was an animator on Terrytoons, then on Paramount Cartoon Studios, after that, he was a director on Fritz the Cat 1 & 2 and Heavy Traffic? Well, this is Coonskin. And it's actually pretty good. Racist, but good. The movie takes place in Harlem Nights (No, duh, it was a working title.) but with a twist that becomes a lampoon of a Disney movie, Song of the South. It's about Sampson (Barry White) and the Preacherman (Charles Gordone) rush to help their friend, Randy (Philip Michael Thomas) escape from prison, but are stopped by a roadblock and wind up in a shootout with the police. While waiting for them, Randy unwillingly listens to fellow escapee Pappy (Scatman Crothers), as he begins to tell Randy a story about "three guys, I used to know, just like you and your friends". Pappy's story is told in animation set against live-action background photos and footage. Brother Rabbit (voice of Thomas), Brother Bear (voice of White), and Preacher Fox (voice of Gordone) decide to pack up and leave their Southern settings after the bank mortgages their home and sells it to a man who turns it into a brothel. Arriving in Harlem, Rabbit, Bear, and Fox find that it isn't all that it's made out to be. They encounter a con man named Simple Savior, a phony revolutionary leader who purports to be the "cousin" of Black Jesus, and that he gives his followers "the strength to kill whites". In a flashy stage performance in his "church", Savior acts out being brutalized by symbols of black oppression—represented by images of John Wayne, Elvis Presley and Richard Nixon, before asking his parishioners for "donations". Rabbit first goes up against Madigan, a virulently racist and homophobic white police officer and the bag man for the Mafia, who demonstrates his contempt for African Americans in various ways, including a refusal to bathe before an anticipated encounter with them (he believes they're not worth it). When Madigan finds out that Rabbit has been taking his payoffs, he and his cohorts, Ruby and Bobby, are led to a nightclub called "The Cottontail". A black stripper distracts him while an LSD sugar cube is dropped into his drink. Madigan, while under the influence of his spiked drink, is then maneuvered into a sexual liaison with a stereotypically effeminate gay man, and then shoved into clothes that women were representative of the racist archetype, adorned in something racist, and finally shoved out the back of the club where he discovers that Ruby and Bobby are dead. Then, while recovering from his delirium of being drugged, shoots his gun around randomly, and is shot to death by the police after shooting one of them. Rabbit, Bear, Fox and the opponent boxer rush out of the boxing arena as it blows up. The live-action story ends with Randy and Pappy escaping while being shot at by various white cops, but managing to make it out alive. This movie was controversial at that time of release, and was re-edited by the director several times under the title, Street Fight, which is obvious, since Street Fight is a 2005 documentary about racism in the streets. In fact, this movie has the same subject as the documentary. That caused Bryanston Pictures, the distributor of this film and the original Tobe Hopper classic, Texas Chainsaw Massacre, to go out of business. Because Paramount wanted to produce and distribute this film, but due to racism, Bryanston took over Bakshi's production. Despite the controversy, it was worth the entertainment. The animation was awesome at that time, the plot makes sense, and it's actually funny too. FINAL VERDICT: 100/100!
TVB Robotnik
Streetfight Quotes
There are no approved quotes yet for this movie.