Strigoi
(2008)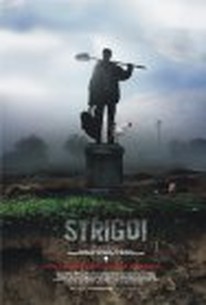 AUDIENCE SCORE
Critic Consensus: No consensus yet.
Movie Info
Faye Jackson wrote and directed this atmospheric fusion of comedy and terror. After his search for a new career in Italy goes bust, Vlad (Catalin Paraschiv) returns to the small Romanian village where he was brought up to discover things aren't quite the same. The town drunk has been murdered, and somehow Vlad has been implicated, even though he was out of town, and Constantin Tirescu (Constantin Barbulescu), the former Communist turned abusive Capitalist who owns most of the village, is looking strange and bloated while still making life miserable for those around him. Vlad thinks Tirescu is sick, but it's worse than that -- he's actually dead, but has become a strigoi, a vampire who rises from the grave to settle an old score. Vlad becomes a combination detective and vampire hunter as he tries to track down the truth about who is the killer, how Tirescu came back to semi-life and how to keep the walking dead from preying on the living; he also has to deal with his kvetching mother and the mystery of why bloodsucking Tirescu has suddenly become so fond of pickles. Strigoi won the Vision Award at the 2009 Toronto After Dark Film Festival. ~ Mark Deming, Rovi
Critic Reviews for Strigoi
There are no critic reviews yet for Strigoi. Keep checking Rotten Tomatoes for updates!
Audience Reviews for Strigoi
½
See, I wanted to like this movie. I liked the movie being set in a small village in Romania, it's a unique place to set this movie. The problem I have is with the actors performing in English instead of Romanian. It just makes the movie look bush league. Not only does it strain credulity that every person in a SMALL ROMANIAN VILLAGE would speak English, it just makes the performances of the actors even worse. I would almost bet that this movie would be better if the actors were speaking in their native tongue, probably not much better, but it'd be an improvement. The movie also has a good idea and I was intrigued by the strigoi and how it fits into Romanian mythology, but the movie just sort of comes and go without any real impact. You feel the same at the end as you did at the beginning. Maybe it is supposed to be atmospheric, but the direction and cinematography doesn't match the atmosphere at all, so I just didn't get into the movie at all. Having the actors perform in English was a terrible idea, there's no real comedic timing or delivery from ANY of the actors, and the atmosphere is shit. So really this movie fails on almost every ground, when it could've been much better.
Jesse Ortega
Super Reviewer
½
Strigoi, at least in America, is more zombie than vampire. It's a hybrid that works well for humor as well as horror in this peculiar tale of murder, deceit and the supernatural.
Randy Tippy
Super Reviewer
This movie is great fun. I wish I could remember it better. I was struggling to stay awake. I'll tell you more when Is ee it again.
Emily Armstrong
Super Reviewer
Strigoi Quotes
There are no approved quotes yet for this movie.
Discussion Forum
Discuss Strigoi on our Movie forum!