Strippers vs Werewolves
(2011)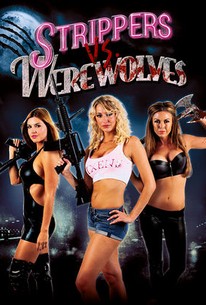 Strippers vs Werewolves Videos
Strippers vs Werewolves Photos
Movie Info
Director Jonathan Glendening follow up his full-moon frightener Night Wolf with yet another tale of lycanthropic terror - this time pitting a pack of vengeance seeking werewolves against a trio of sexy strippers. A member of a prominent wolf pack has been killed in a high-class strip club, prompting the leader of the pack to plan a bloodbath during the next full moon. The plan hits an unexpected hitch, however, when the owner of the strip club is revealed to be a veteran werewolf hunter, and one of the strippers gets romantically involved with a member of the pack.
Rating:
NR
Genre:
, ,
Directed By:
Written By:
On DVD:
Runtime:
Studio:
Critic Reviews for Strippers vs Werewolves
Audience Reviews for Strippers vs Werewolves
Dumb and unimaginative despite its somewhat entertaining--if derivative--comic book aesthetic, Strippers vs. Werewolves is a sometimes funny but mostly lame, tongue-in-cheek, British horror comedy that may entertain the audience for 95 minutes but will be quickly forgotten once that time span has elapsed.
Al Miller
Like all great rivalries, this one starts off low key and escalates quickly. It's a fun enough romp, and I have to admit to being something of a mark for the corny titled ones like this; I'd have been in trouble in the '50s with all the crazy atomic scare titles, ending up living in a theater watching bad movies. Rental.
Bill Bryant
Fun horror/comedy. Set in a strip club, the plot revolves around a gang of werewolves getting revenge on a club owner that they had a run in with years ago. Despite not being particularly gory, Strippers vs Werewolves has some very funny moments and good characters. The cast, made up mostly of soap opera/TV actors do a decent enough job and theres even a brief appearance from Robert Englund, stealing the show as a jailed werewolf(think he's a werewolf anyway!) out for revenge. You can tell this is budget just going by the make-up effects but its been charmingly done and ovearll Strippers vs Werewolves is an entertaining way to spend an hour and a half.
Strippers vs Werewolves Quotes
There are no approved quotes yet for this movie.