Stromboli
(1950)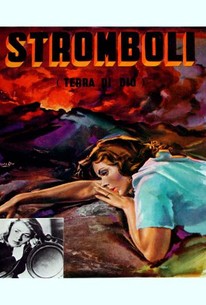 Movie Info
This drama is an example of Italian neorealist filmmaking from noted director Roberto Rossellini that was produced in Hollywood and may therefore be more accessible to American artists than other offerings. It stars Ingrid Bergman as Lithuanian war-refugee Karin, who marries Italian fisherman, Antonio, so she can get out of a hellish internment camp. He takes his new bride back to his native island of Stromboli. Despite her efforts to fit in, the locals reject her and soon she comes to regard the island as a bigger prison than the one she just left.
Rating:
NR
Genre:
Directed By:
Written By:
In Theaters:
Runtime:
Studio:
Criterion Collection
Critic Reviews for Stromboli
Audience Reviews for Stromboli
½
Ingrid's great fall from Hollywood's graces was spurred by this flat drama and her involvement with its director. I'm sure their marriage brought her more fulfillment than this turgid exercise in neo-realism does to the viewer.
½
A great reminder of what life is like after a war. Often survivors are willing to jump out of a frying pan into the volcanic coals of life. Attitude & perspective can save a life better than money or bullets sometimes.
Christopher Bergan
½
I probably shouldn't like this movie as much as I do. The ending, and I mean just the very end is silly and overwrought (preceding this is a lovely little poem of a scene to contemplation and wonder at the world when Bergman wakes up from her delirious crying dreams) and though he's meant to be a non professional actor literally pulled out of town the main guy who marries Bergmans character just isn't that good even as a first/only timer. But Rossellinis aim here is to depict alienation in a stark form and he achieves it, with that volcano acting like another character - looming, always threatening, could and will blow at any moment and leaving those people below in a state of constant peril in barbaric terms - and the character slowly losing her shit in this predicament. Of course, it's easy to say she could have stayed in the temporary camp she was at in the start of the film (she didn't really love the guy to start with), but really this is just the kick off to what he is best at showing and what his first time star/muse/lover is so strong at portraying: bewilderment and total disillusionment for a better life following the end of ww2. Another actress could have hammed this up totally - only Anna Magnani, the original choice for the role, could have gone toe to toe - but Bergman is terrific at never having to say it but just being the smartest, least petty person on this island her new husband takes her too while he makes pittance fishing. She is tough and cynical and in another world could be right at home with Bogie. Here, when she breaks down in tears, which is more than once, it's hard not to feel for her especially as she tries to be civil and find a place for herself in this land of rubble. There's deeper existential stuff going on here, But what I appreciated was how the heaviness of the subject matter was balanced with documentary sequences (or close enough to them) Just showing the locals all fishing and getting their giant tuna and other animals. You feel like you're seeing real work that is hard not to appreciate, and yet still crouched in thks story of a woman lost with herself. That may be why the ending doesn't entirely work for me- Rossellini means for her to find redemption, but from what? Him? I dunno. and yet there's always striking imagery, and a visual force even in the seemingly simplest of shots - and to go on a volcano, Thats some Herzog shit right there.
Jack Gattanella
Stromboli Quotes
There are no approved quotes yet for this movie.