Stroszek
(1977)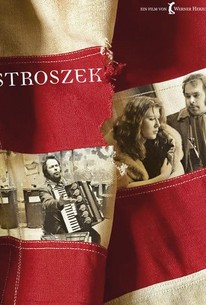 Movie Info
Can anything be bleaker than the shabby slums of Berlin? Yes, argues director Werner Herzog in Stroszek: try Wisconsin sometime. Bruno S.. stars as an ex-mental patient who dreams of the so-called promised land of America. He aligns himself with like-minded prostitute Eva Mattes and elderly, near-senile Clemens Scheitz. Upon their arrival in Wisconsin, the three misfits find that they're just as trapped in Dairy Country as they'd been in Germany--if not more so. The sour and bitter Stroszek earned worldwide critical and commercial acclaim.
Critic Reviews for Stroszek
Audience Reviews for Stroszek
½
Stroszek is my first look into Werner Herzog's take on a "normal" reality; or rather, his treatment of contemporary (1976, at least) culture. In it, Bruno, an alcoholic street musician, Eva, his prostitute girlfriend, and their elderly neighbor move to America in an attempt to leave behind the hardships of their lives in Berlin.
The characters are, in one way or another, weighed down by one defeat after the other. Bruno, just out of jail, is misunderstood by his society, and his soft, naive personality often works against him in his gritty Berlin neighborhood. Nobody respects or stands up for him. Eva has a difficult, impulsive temperament that keeps getting her into trouble, no matter where she is: she's constantly taking leaps of faith and never measures the consequences of her actions. In short, they seem to be completely doomed to failure for reasons beyond their control. Fed up of taking beatings from Eva's pimps and falling over their heads time after time, they find an opportunity to move to Wisconsin with their neighbor's nephew. This does not improve things.
In America, Bruno is no longer subject to leading an existence on the margins of the law; everything seems very civilized, organized, and clearly laid-out. However, language limitations, mortgage, and Eva's restless character end up leaving him bankrupt, unemployed, alone, and more misunderstood than ever before. The film then takes a 180 degree turn and centers on Bruno's disappointment and breakdown. Enter the dancing chicken.
Stroszek is surprisingly non-preachy for a film about how dehumazing Western culture can be, no matter where you meet it. I guess this is because Herzog never chooses to show things in an easy, matter-of-fact way; rather, it's a premise that looms over the entire movie. The story is never downright tragic until the very end, except in showing the physical threats of the pimps in Berlin, and it even has some very funny moments. There are no real 'bad' guys, no big corporation against small farmer, no corrupt police versus good-at-heart small time crooks. None of that, because that would be too obvious and too specific. I disagree that this film is simply about the American dream and how it doesn't exist... I think this is really about the whole world, how it functions, against the illusions of one man. It sounds very ambitious, but it is so well done. And Herzog is known for ambitious projects.
It's unnecessary to comment on its great script because such a complex message could never be delivered with a bad script - Bruno S's performance, on the other hand, deserves some emphasis: he was cast in a perfect role for him. It's hard to tell whether he's actually playing himself, but it hardly matters when he so perfectly conveys Stroszek's good nature, vulnerability, and strong will. Think of a stronger Kaspar Hauser, with considerably more wit.
Finally, that famous ending. It makes the whole film worthwhile. It could not have been different. If in a correct mood, it makes your head explode: music so happy it's frightening and farm animals doing "cute" tasks moved by who knows what horrific conditioning. I don't know how to describe it better, watch it and see if it makes as much sense as it did to me.
½
Succeedes where a film like Dancer In the Dark fails miserably, it gives a fair, realistic & relentless portrayal of a man's downfall, Evil is everywhere & yes when you're falling no dream or illusion will save you
½
Downright brilliant tragicomedy from one of the masters when it comes to capture unconventional people chasing illusions. Bleak, offbeat and funny as hell.
Pierluigi Puccini
Super Reviewer
Stroszek Quotes
There are no approved quotes yet for this movie.