Stuart Saves His Family
(1995)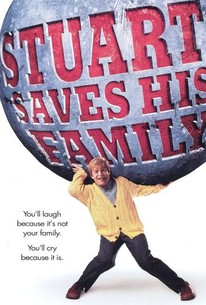 Stuart Saves His Family Videos
Stuart Saves His Family Photos
Movie Info
Al Franken brings his Saturday Night Live character Stuart Smalley to the big screen in this unexpectedly downbeat comedy about a man desperately trying to overcome his dysfunctional upbringing. Stuart hosts a TV show on public access TV in which he offers bits of New Age wisdom on self-help, often incorporating his trademark affirmation, "I'm good enough, I'm smart enough, and doggone it, people like me!" Too bad Stuart's advice doesn't work so well for himself; he barely supports himself as a waiter, his self-esteem is shaky at best, and his family is dominated by depressive alcoholics sunk in denial (for all his quirks, Stuart is the only Smalley willing to admit he has a problem). One day, Stuart's friend Julia (Laura San Giacomo) tells him that a cable network is looking for programming, and suggests he should pitch his show to them. Soon Stuart has a nationwide audience and is actually able to support himself, but that's small comfort when his family falls into another crisis. By turns a goofy comedy and a serious look at a dysfunctional family, Stuart Saves His Family does feature a few strong dramatic performances by Laura San Giacomo, Vincent D'Onofrio and Shirley Knight, and a distinctive comic turn by Julia Sweeney as a guest on Stuart's show.
Critic Reviews for Stuart Saves His Family
Audience Reviews for Stuart Saves His Family
½
I'm not sure this expansion of a 90s SNL sketch warrants the feature treatment. I'm even less sure whether or not Al Franken's often humorous -- yet one-note -- TV character should carry his own film (I have the same doubts about the comedian himself in fact). Indeed, this whole endeavor may be better served with Franken's Stuart in a supporting role to a more well-rounded character. There's also too much of a reliance on the original catch phrases from the sketch and the over-the-top, goofball characters that Stuart "counsels" on his public access show. Even worse are the uber serious and emotional moments that come off so disingenuous when paired with Franken's lispy-voiced fruitcake. That being said, there are some moments of wit and humor to enjoy. Not quite enough to warrant this movie's existence, but sometimes you just gotta chuckle at Stuart's mix of self-deprecating and horribly insulting honesty.
Matthew Coratti
½
I liked the Stuart Skit on Saturday Night Live; it's a funny premise of self-help addiction. The movie wasn't too bad, but the characters got a bit annoying.
Lafe Fredbjornson
Super Reviewer
I'm not a fantatic of the Stuart character. This film directed by Harold Ramis was hilarious! I enjoyed watching the entire movie.
Stuart Saves His Family Quotes
There are no approved quotes yet for this movie.
Discussion Forum
Discuss Stuart Saves His Family on our Movie forum!