Stuck!
(2009)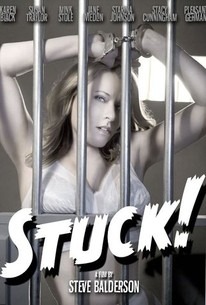 AUDIENCE SCORE
Critic Consensus: No consensus yet.
Movie Info
An innocent young woman is wrongfully accused of murdering her mother and sentenced to death in Firecracker director Steve Balderson's campy homage to the women in prison genre. Enslaved by her sadistic female warden and left to the mercy of her hardened fellow inmates, frightened innocent Daisy (Starina Johnson) struggles to maintain her integrity as her life becomes a living hell behind bars. Karen Black, Mink Stole, Jane Weidlin, Stacy Cunningham, and Pleasant Gehman star.
Critic Reviews for Stuck!
All Critics (1) | Fresh (1) | Rotten (0)
The film only works because of Karen Black. Playing the next-door neighbour whose eye-witness testimony puts Daisy on a fast-track to the gallows, the lonely old woman begins to have doubts about what 'I know I saw.'
Audience Reviews for Stuck!
"Are you talking back at me, tampon socket?" Awful, boring, awful, amateurish, awful, awful, and awful. That pretty much sums up Stuck! Daisy (played by some woman with a terrible fake southern accent, whose name I certainly didn't bother to look up) walks in on her seriously ill mother plotting to end her own life with a gun, and in an attempt to prevent the suicide, the mother is accidentally shot and killed. A neighbor sees the struggle through her window and misinterprets it, resulting in Daisy getting sent to jail with a sentence of death. I don't really remember what happened after that, probably because this movie is so terrible that it gave me brain damage. What's supposed to be a modern homage to the "women in prison" genre, ends up being a mawkish bore that fails to entertain on any level. Stuck! isn't campy fun, and it's not anywhere near the good side of awful. From the acting, writing, and directing, to the incredibly cheap looking digital video it was filmed with, this movie is just a failure. Even the titillation that practically is a genre requirement is completely missing, because quite frankly, most of these women make actual prison inmates look like Adriana Lima. Skip this. Please.
Stuck! Quotes
There are no approved quotes yet for this movie.
Discussion Forum
Discuss Stuck! on our Movie forum!