Student Bodies
(1981)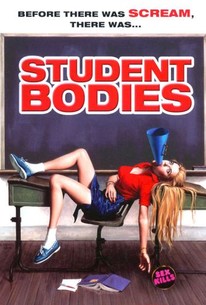 Movie Info
Some people think slasher films are funny. Those who made this parody are among them. Filled with lots of blood, guts and young people dying in horrible ways, it is set in a typically American high school.
Critic Reviews for Student Bodies
Audience Reviews for Student Bodies
A very funny spoof of slasher flicks! It's kind of stupid, but it's enjoyable anyway if you've seen a lot of slasher horror movies. I really enjoyed it.
Exuberant, right-on parody of the then-current crop of horror films like HALLOWEEN and FRIDAY THE 13TH is one of the great parodies of the period, twenty years before SCARY MOVIE claimed to do the same thing for the first time! Like all good spoofs, it alternates between perfect imitation and surreal departure. There's lots of sexy teens running about in bras and panties, and a really creepy double-jointed guy known only as "The Stick". And this may be the only horror movie to have its "R" rating stuck right in the middle of the picture, thanks to a hilarious bit excised from TV airings of this neglected comedy. Funny murders, kooky/grotesque characters, great trick ending. What's ironic is how many of the trademarks bits of these movies, like the stalking camera and the telephone terrorist, haven't changed a bit in two generations of bad horror films! Produced by the enigmatic non- producer, Allan Smithee. For my money, the three great parodies of this era are AIRPLANE!, CAVEMAN and this.
Cassandra Maples
Super Reviewer
"Talking?! During horse head bookends?!" Early 80's spoof of slashers is filled mostly with silly gags that don't work. A handful of them, however, made me laugh, so I'll be kind.
Student Bodies Quotes
| | |
| --- | --- |
| Charlie: | Julie, you're not responding to my maleness |
| Charlie: | Julie, you're not responding to my maleness. |
| | |
| --- | --- |
| Principal Peters: | Hasn't there been enough senseless killing? Let's have a murder that makes sense! |