Storm (Sturm)
(2009)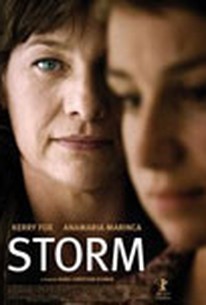 Movie Info
A prosecutor at a tribunal in the Hague attempts to convince a potential witness to testify in a crucial case against the man accused of deporting and killing Bosnian-Muslim civilians in a small town now known as the Republika Srpska in this tense courtroom drama from director Hans-Christian Schmid. Hannah Maynard is determined to make Goran Duric pay for his crimes against humanity. Her case is complicated, however, when a key witness in the trial becomes ensnared by the contradictions of his own testimony. In order to gain a better understanding of the facts of the case, the court sends a delegation to Bosnia, where the suspicions regarding the reliability of the witness are quickly confirmed. When the witness commits suicide, it begins to appear as if Duric will walk free. Now, Hannah's last hope of keeping the case alive is to travel to the witnesses' funeral in Sarajevo. There, Hannah comes into contact with the witnesses' sister Mira, who seems to know more about the defendant than she readily admits. Hannah works hard to gain Mira's trust, eventually convincing the girl to face her fears of the past and testify in the Hague. When Duric's defense team attempts to have Mira's testimony disallowed and finds their efforts unexpectedly supported by the members of the judiciary, Hannah realizes that her greatest adversaries aren't necessarily at the docks, but standing right beside her in the courtroom every day. ~ Jason Buchanan, Rovi
Rating:
NR
Genre:
,
Directed By:
Written By:
In Theaters:
On DVD:
Runtime:
Studio:
Critic Reviews for Storm (Sturm)
Audience Reviews for Storm (Sturm)
½
Storm (Hans-Christian Schmid, 2009) Hans-Christian Schmid has been directing films since the late eighties, but he got his first big buzz in America in 2006 with Requiem (which is basically the other half of the story of Anneliese Michel, which also came to screen in 2005 in The Exorcism of Emily Rose). For those of us seeing his work for the first time, Schmid provided ample evidence that he is capable of producing powerful, slow-moving drama about either demonic possession or a young woman slowly going insane, your call. (That the ambiguity still exists at the end of the film is one of its strongest points.) His follow-up was Storm, and it couldn't be any more different from Requiem if it tried: a tense courtroom drama dealing with ethnic cleansing in Yugoslavia during the civil war that split the country into modern-day Serbia, Croatia, Bosnia, Macedonia, et al. If you want to show your versatility as a director, these would be two excellent films to do so in the shortest possible amount of time. And while Storm is no Requiem, it's a solid courtroom thriller that echoes the Nazi courtroom dramas of the fifties while staying entirely grounded in modern times. Plot: Hannah (Bright Star's Kerry Fox) is a war crimes tribunal prosecutor charged with bringing Croatian general Goran Duric (Madonna's Drazen Kuhn) to justice for wartime atrocities during Operation Storm (Duric is based on real-life Storm commander Ante Gotovina, a truly nasty character; you can check out a bio on wikipedia; short answer, at the end of the real-life trial, he went to prison fort twenty-four years). Unfortunately, it turns out her main witness to some of Duric's atrocities has perjured himself on the stand, and after Hannah presses him on it, he commits suicide. Without his testimony, Duric goes free, so Hannah must travel to Yugoslavia to find anyone else who might have been an eyewitness. Even more unfortunately, in the areas where Hannah must go, Duric is still considered a war hero, and those trying to convict him are considered enemies by the public. Still, Hannah manages to find a possible witness in Mira Arendt (4 Months, 3 Weeks, and 2 Days' Anamaria Marinca), the deceased witness' sister, along with the stunning revelation that he lied on the stand because he wasn't an eyewitness to the crimes-his sister was one of the victims. While it plays out like a courtroom thriller, it should be noted that Schmid, who is always willing to give stories the time they need to develop, is just as interested in the blossoming of the relationship between Hannah and Mira as he is in the courtroom drama. (In fact, Hannah's long-term relationship with another lawyer, which should have been a subplot, is instead given the shortest shrift possible-which makes one piece of the climax feel far more anticlimactic than it should, the movie's greatest failing.) This has led more than a few Intrnet wags, and some professional critics, to say the movie is boring and move on. No, this isn't an episode of Law and Order. This is a movie with real characters we get to know, and to like, and with a plot that, despite being based (rather closely, from what I can tell in my reading up on it) on real life, beggars belief. It's a very powerful film that could have been even more so with perhaps one more script revision. Well worth your time. *** 1/2
Robert Beveridge
I really liked this movie. The acting was superb and the story was riveting. I am usually not big on foreign films but liked this one.
Mitch Llewellyn
½
Good drama! Not terribly fast moving, but I tend to like that sometimes if the story is intriguing enough. The acting was very, very good. The storyline was very interesting. A lady prosecutor is hellbent on making a war criminal pay for his crimes. A witness is determined to make this same war criminal pay for the horrible things that he was responsible for by helping the prosecutor bring him to justice. All was well played out. I enjoyed it.
Cynthia S.
Super Reviewer
Storm (Sturm) Quotes
There are no approved quotes yet for this movie.
Discussion Forum
Discuss Storm (Sturm) on our Movie forum!