Subject Two
(2006)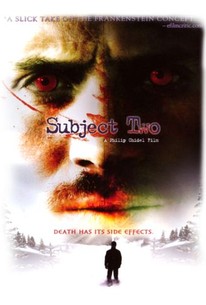 Movie Info
Far From Bismark director Phillip Chidel takes a psychological approach to death and resurrection with a modern update on the Frankenstein legend concerning a doctor who claims to have found the key to immortality and the subject who ventures to his remote cabin for a series of chilling experiments. Deep within the snowbound monoliths of the Rocky Mountains, Dr. Franklin Vick is struggling to perfect the fine art of resurrection. Bringing the dead back to life is a tricky game though, and in order to truly carry out his research Dr. Franklin is going to need an assistant. Despite the highly controversial and blatantly unethical nature of Dr. Franklin's research, troubled medical student Adam Schmidt casts aside his doubts and hastily makes way for the doctor's snowbound laboratory to help take part in the potentially historic discovery. As the pair work feverishly to perfect their resurrection methods, they quickly find out that although death may not be as permanent as medical science presently dictates, it most certainly has some troubling side effects.
News & Interviews for Subject Two
Critic Reviews for Subject Two
Audience Reviews for Subject Two
I enjoyed this film. It's more of a thought provoking science fiction movie rather than a horror/thriller. The concept is very interesting and the end had a good twist to it. This was really good considering it was probably done with a lower budget than most. If your looking for horror or action...you probably won't like this film. *SPOILER* It seemed like every time subject 2 was killed and brought back he lost a piece of his soul when all along if the "Doctor" had just waited it out after the first resurrection...the negative side effects would've passed and the "subject" would've been fine. But the doctor was too busy trying to be God to actually allow the serum enough time to work correctly.
Mandi Landell
150508: This movie was really looking good to me, for quite awhile. Loved the concept and the inhumane treatment of Adam was shocking. When the Professor makes his appearance it was a real let down. I did not find Thomas Buesch at all appropriate for the character. He just didn't seem to fit in with the rest of the film. Too bad as this film had/has a lot going for it.
John Redshaw
In this version of Frankenstein, he gives his monster funny contact lenses instead of neck bolts. There's a certain depth lacking, and the pace is mind-numbingly slow.
David Underwood
Subject Two Quotes
There are no approved quotes yet for this movie.
Discussion Forum
Discuss Subject Two on our Movie forum!