The Suburbans
(1999)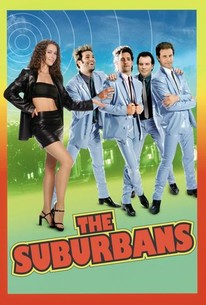 Movie Info
Answering the question of "Where have all the New Wavers gone?" is The Suburbans, a comedy from first-time director Donal Lardner Ward, who also stars and co-wrote the screenplay. In 1981, power pop band The Suburbans had it all -- big hair, skinny ties and a hit record. But they never followed up on their one chart success, and years later, most of the band's members have dropped out of the music business in favor of "real jobs." However, when one of the ex-Suburbans gets married, the four members are reunited at the reception and play their lone hit for old times sake. As fate would have it, one of the wedding guests is Cait (Jennifer Love Hewitt), a young A&R executive who loved the Suburbans as a kid and thinks they could have another shot at the big time. But does pushing-40 bandleader Danny (Ward) really want to put a stake in the heart of his marriage to Grace (Amy Brenneman) for another moment in the spotlight? The Suburbans features a period-appropraite cameo from A Flock Of Seagulls and supporting performances from Ben Stiller, Jerry Stiller, Will Ferrell and Robert Loggia.
Rating:
R (adult situations)
Genre:
,
Directed By:
Written By:
In Theaters:
On DVD:
Runtime:
Studio:
Sony Pictures Home Entertainment
Audience Reviews for The Suburbans
I always like to put in a "plug" for The Suburbans. It is a movie very few people have heard of. I was one of the few people who have heard of this film. The film was a limited release film in 1999 & was a flop at the box office. I was in Blockbuster Video back in 2000 & decided not to rent it, but I was wrong. The film was considerably better than I originally had thought it would be. I saw it in 2011. The film only got very limited attention, & one has to be at least 30 to understand what the film is getting at about life. I am a big Jennifer Love Hewitt fan, & I also thought the supporting cast was very good. I always thought the film was well acted on a technical level. The movie is really about how far you go to protect friends, finding true happiness in life, & how far you go to pursue a pipe dream. I really believe a lot of this plot is over the heads of the 18-25 crowd. The movie is filled with dry humor about life & mid-life crisis jokes along with disgust of one's life in the form of cynical humor. The film was also released in 1999 which in my view was a very strong year for movies, & the film was thus in the shadow of some really great movies that year. The plot is about a 1980's rock band that was a 1 hit wonder trying to make a comeback in the late-1990's. They really only make a comeback due to the crush Hewitt's character has on one of the band members. They really got lucky back in 1981 & have limited talent. The film explores this & their ascent into stardom, then their descent into destruction & then back again. I have a dry sense of humor so I found the film very funny & entertaining. I also could relate to it due to what I have gone through in life in politics & other things. The film is really about finding one's own view of happiness & how luck can determine major aspects of our life. If you really like the actors that are in it, & you like the 1980's you will probably like this film. A lot of good music here also. Everything you have heard about this film is wrong. Hewitt, Bierko, Ferrell, & Brenneman are very good here. I actually thought this was film was better than some of the other stuff that JL Hewitt did in recent years. Do not miss it.
David Bocek
MOST HILARIOUS MOVIE EVA! MUST SEE! BETTER THAN A BLOWJOB FROM YOUR BEST FRIENDS PARAPLEGIC MOTHER. LITERALLY!
Andrew Jajtner
Leigh Ryan
Super Reviewer
The Suburbans Quotes
There are no approved quotes yet for this movie.
Discussion Forum
Discuss The Suburbans on our Movie forum!