Sucker Free City
(2004)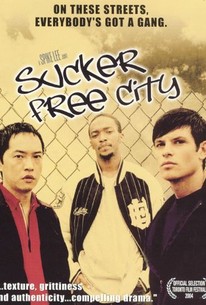 AUDIENCE SCORE
Critic Consensus: No consensus yet.
Movie Info
Acclaimed filmmaker Spike Lee makes the leap from the big screen to the small screen for this Showtime drama concerning the battle waged between black, white, an Asian gangs for control of the San Francisco streets. A modern-day melting pot that has become home to some of the vicious street-gangs in the country, San Francisco is a city teeming with racial tension. When each gang lays claim to the streets in a desperate bid to establish their turf, the simmering tensions soon boil to the surface in a violent eruption of murder and chaos.
Audience Reviews for Sucker Free City
½
I didn't realize until after the fact that this was supposed to be a pilot to a passed-on Showtime series, which makes a long of sense, because as is, the story's incomplete. Still, there's a lot to like here, even if it can't break away from The Wire's brilliance and scale. Clearly, out of the three protagonists, Ken Leung gets the short shift, though he's probably the most interesting character. Curious to see where a series could've gone. A different note in the Spike Lee oeuvre, recognizable only by Lee's penchant for being overdramatic.
Trent Johnson
Funny how shit works out: Spike Lee directed this pilot for a possible Showtime series- for TV, written by someone else- and it was by miles ahead better than the other shit he put out that same year, which he wrote and was garbage. This is cool crime drama, shot with a masterful level of professionalism and moments of real 'Spike' action (plus the one funny part of Bamboozled is featured prominently: DaBOMB malt liquor), with the only drawback being the given open ending. Needs to be seen by more people who don't know that Lee can direct something mainstream outside of NYC.
Jack Gattanella
Sucker Free City Quotes
There are no approved quotes yet for this movie.
Discussion Forum
Discuss Sucker Free City on our Movie forum!