Sucker Money
(1933)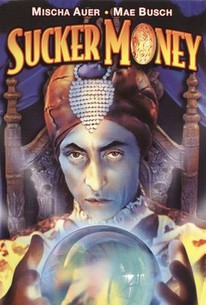 AUDIENCE SCORE
Critic Consensus: No consensus yet.
Movie Info
In this suspenseful drama, a newspaperman begins investigating the authenticity of a notorious spiritualist who has been exploiting an oil baron's daughter. The film features many phony seances and ends in a deadly chase as the reporter closes in and threatens to discover the culprit behind a murder.
Critic Reviews for Sucker Money
There are no critic reviews yet for Sucker Money. Keep checking Rotten Tomatoes for updates!
Audience Reviews for Sucker Money
Simple and slightly offbeat tale. Good cast, Mischa Auer always does well. Very short, good pace. Interesting story.
James Higgins
Sucker Money Starring: Earl McCarthy, Mischa Auer, Phyllis Barrington, and Mae Busch Directors: Dorothy Davenport and Melville Shyer When Jimmy (McCarthy), an actor-turned-newspaper reporter, infiltrates a group of confidence artists who are running an elaborate phoney psychic operation, he gets more than just the material for a great expose: He finds romance in the form of beautiful Ms. Walton (Barrington), one of the targets of the bad guys, and he finds danger at the hands of the murderous leader of the gang, Swami Yomurda (Auer) when his cover is blown. "Sucker Money" is a fine, fast-paced little reporter-saves-the-day-and-the-girl and self-declared "expose" film of the phoney psychic racket (which, given the number of movies that were made with this theme during the 1930s and 1940s, I can only assume was quite widespread). The set-up is a bit weak--a criminal enterprise as elaborate and organized as the one presented in this film wouldn't turn to the want ads when it came to hiring new help--but that bit of nonsense aside, the film is engaging, well-acted, and well-filmed... even if it feels and looks a bit too much like a silent movie at times. (There's also the minor issue with the reporter wearing more lipstick and eyeliner than any of the women characters in the film when he's in his "acting mode". Perhaps that's to remind the audience that he's a ACTOR? Or maybe that was part of his disguise--"if they think I'm one of THOSE actors, the women won't come onto handsome ole me, and I'll get my story quicker"? The weaknesses of the film are more than made up for by the evil Swami Yomurda (whose name is never said in the film, thank God.) Auer protrays a truly sinister and evil character, with strongly scripted actions to support him. He may be a fake psychic, but he has Svengali-like hypnotic powers, and he has no compulsion about ordering those under them to dispatch themselves by drinking poison. He does just this in the film's most startling scene. The scene alone makes the film worth watching, although the strong climax also makes it well worth your time, if you;re a lover of old-fashioned crime dramas.
Steve Miller
Sucker Money Quotes
There are no approved quotes yet for this movie.
Discussion Forum
Discuss Sucker Money on our Movie forum!